Father's Day Gift Guide for Cooks
Chef and father Barry Tonkinson recommends treating dads to these culinary tools.
Here are some of the best cooking gifts to upgrade your dad's kitchen, from well-made prep accessories to high-tech equipment you may want to split with your siblings. Whether your dad's been making sauces, steaks or pasta while staying at home, these will make the hobby his specialty.
Microplane Classic Short Zester
The perfect tool for any serious cook, this microplane can be used to grate hard cheeses and even nutmeg or zest citrus fruits. It's easy to use for small-scale cooking, durable and easy to clean — a weapon to add to any great cook's arsenal.
Kuhn Rikon 3-Set Original Swiss Peeler
These Swiss peelers are the best for tackling vegetable skins. They have super sharp carbon steel blades and are more productive than the more expensive products on the market. Trust in the original Y shape, lightweight peeler as a perfect Father's Day gift.
ChefSofi Granite Mortar and Pestle Set
This granite mortar and pestle is perfect for crushing spices or making a delicious pesto or chimichurri. The tapered pestle is 7 inches long and comfortable to handle any job. Weighing 7 pounds, the kit is sturdy enough for any grinding and the unpolished granite makes for an elegant culinary tool displayed in any kitchen.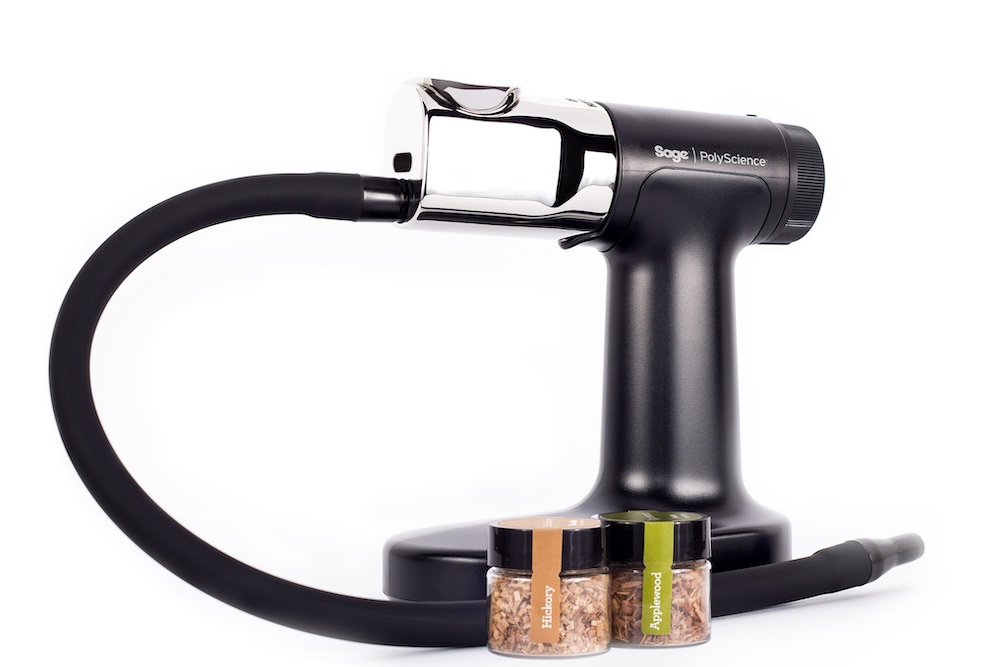 Breville Smoking Gun
The Smoking Gun can infuse food or drinks with a natural smoky flavor. The kitchen tool comes with applewood and hickory woodchips and is easy to use for enhancing any ingredient with an easily generated cold smoke, whether adding a touch of smoke to steak or infusing a favorite whiskey.
OXO 10-Piece POP Container Set
A great cook is the product of great organization, and OXO POP is the champion of kitchen storage. With varied sizes, these elegant, easy-to-use containers have a push and seal button on the lid of each container. With just two fingers, cooks can access ingredients that are sealed tightly with rubber. I use the smallest size for my herbs and spices and larger for anything from dried pasta to grains and nuts.
LaGondola Professional Pasta Cutter Wheel
These pasta cutter wheels are a great choice for any serious Italian cook. The fluted wheel has large teeth that create a dramatic finish to pasta shapes. With a natural wood handle and brass head, these are the go-to cutters for any pasta pro.
Watch a pasta wheel shape agnolotti.
Breville Joule Sous Vide
This is the most powerful sous vide tool on the market. It holds the temperature with precision for a perfect result every time. The Joule app will control the unit from anywhere, meaning you can change and maintain temperatures remotely. This unit will heat 10 gallons of water and is faster to reach temperature than any other unit.
Bamix EO150 "Classic" Immersion Hand Blender
The Bamix immersion blender is a powerhouse in the pro kitchen and a dream for any food enthusiast. It is powerful and reliable as well as quiet, like a ninja. Truly versatile, it has the ability to blend, aerate, froth and whip. Unlike other brands, the Bamix is made for work and is durable, blending at 9,000 rpm and 12,000 rpm on separate speeds.
John Boos R03 Maple Wood Edge Grain Reversible Cutting Board
It's crucial for both safety and for perfecting knife skills to invest in a well-made, sturdy and heavy cutting board. As well as being safe and strong, this cutting board is elegant and a perfect gift for any home cook.
BlueDOT® Alarm Thermometer with Bluetooth® Wireless Technology
The perfect grilling accessory, the BlueDOT has Bluetooth connectivity and a 4.5-inch temperature penetration probe. This splash-proof thermometer will alarm at set temperature alongside minimum and maximum temperatures to ensure a faultless grilling experience every time.
Man Apron with Adjustable Length
This is the perfect apron for any dad cook. Stay sharp in the kitchen with this well-designed and durable apron with fully adjustable length to shield dad's original outfit. For dads who take themselves more seriously in the kitchen, I recommend Bragard aprons from the industry's premier uniform brand.
Gift an experience or use the new tools in our free online recreational classes.