ICE Alum Dives Into Head Chef Position at Great White
From a job in advertising to head chef to aspiring entrepreneur, there's no stopping Betsy Wiegand.
Betsy Wiegand (Culinary, '20) shares her experience from extern to sous chef at Great White, a trendy restaurant in Venice Beach for which she's been promoted to head chef of an outpost.
Betsy didn't know she wanted to become a chef at first; however, a series of life experiences led her on a journey into the kitchen, where she feels herself and most at home. Coming from a family that was well-ingrained in the farming industry, Betsy grew up with a deep appreciation for the agriculture around her. Aiming to acquire as much culinary experience along the way, Betsy has sights on big projects she hopes to accomplish in the near future.
Betsy was born and raised surrounded by fresh, raw ingredients, whether it be freshly picked tomatoes, shelled almonds or unshucked corn in what she calls "the land of agriculture": Fresno, California. "I'm the youngest of four kids, so family meals were a really big thing in my household. Watching my parents manipulate raw ingredients and turn them into meals for our entire family fascinated me," Betsy explains.
Though food played a critical role in her family dynamic growing up, she didn't realize her true passion for cooking until years later. When in college at the University of Colorado Boulder, Betsy began cooking on her own. The task started to keep her from going hungry with her busy schedule; however, she grew more and more fond of the process as time went on.
Being in Colorado also gave Betsy a new perspective on the culinary scene. She discovered a bounty of healthy food options in Boulder, which she learned was one of the healthiest cities in the nation. Living there exposed her to a new type of cuisine and lifestyle centered on fresh and healthy foods.
Betsy studied advertising and then moved to Los Angeles to pursue a career in the industry. Though successful at her job, Betsy quickly felt unmotivated by her professional lifestyle. "I essentially got sick of looking at a computer screen for nine hours a day, and so I enrolled at culinary school," she exclaims.
In early 2020, Betsy began the Culinary Arts program at the Institute of Culinary Education's Los Angeles campus in the evenings. While at school, she learned essential skills like correctly setting up mise en place, focusing on organization and learning from her mistakes. "The restaurant industry is really trying; it's very demanding, which is what I've learned. But as long as you're always setting yourself up for success, success will come," Betsy emphasizes.
Deeply rooted in her daily practice, Betsy explains that she applies the lessons she learned at school in the kitchen all the time, like:
"Don't ever underestimate mise en place, it's the only way you can run an essential kitchen."
"Be highly organized, which is key to chefs."
"Don't be afraid to fail. Everyone learns from their mistakes."
Thinking back on a particular memory that stood out, Betsy recalls the meticulously tricky task of making a tourné potato that — although she found frustrating — ultimately taught her patience and attention to detail.
"I also have to give a big shout-out to the staff," she says. "Every chef I had was enthusiastic about their job and about the food they were teaching, which bled into their work, which then essentially bled into ours. I really appreciated the staff at ICE."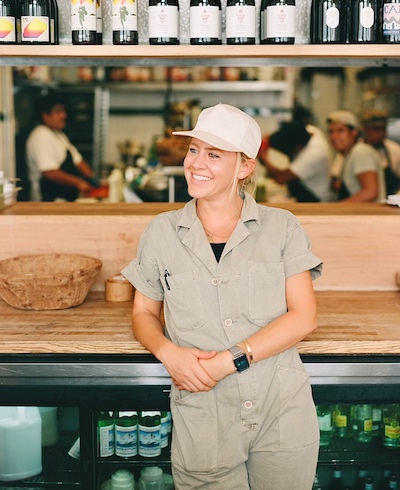 Following her program, Betsy landed a job at Great White, steps away from the iconic Venice Beach Boardwalk. Great White is a casual cafe focused on fresh, California-style cuisine, that has become a must-go-to restaurant for locals and tourists visiting the area.
"I graduated on a Thursday and started working at Great White on that Friday," Betsy says. "I started as a pantry line cook. It was my first time in the kitchen. I had never been in the restaurant industry, had never been a hostess, had never been a waiter. I had never even stepped foot in the back of house before." While pushing to learn more, Betsy continued to progress by demonstrating her strong work ethic and ultimately earning a sous chef position.
"I was able to step up to do that. And, as the company grows — we're opening a location in Larchmont in the next few weeks — the restaurant has given me the opportunity to be head chef and leader of the kitchen there," she explains. Even more impressive, Betsy managed all of these accomplishments in just about six months. "Just like life, it was a lot of luck paired with a lot of hard work."
Though the name might sound intimidating, Great White certainly is not. The friendly and energetic staff welcomes patrons with warm smiles, ready to offer hospitality in the light and airy restaurant with California-cool vibes.
The eatery also features a highly seasonal menu focused on the wide selection of local produce available in California. Adaptable to many dietary restrictions like gluten-free, vegetarian or vegan, the extensive menu features dishes like kale pesto pasta, truffle fungi pizza and a hearty breakfast burrito.
Looking to support local farmers, Betsy says that the restaurant shops at the world-renowned Santa Monica Farmers Market every Wednesday and Saturday from vendors like Coleman Family Farms, The Graden Of, Valdivia Farms, Lily's Eggs and Milliken Farm. The market is known for regulars like acclaimed Los Angeles chefs Niki Nakayama of n/naka and Michael Cimarusti of Providence.
As the team prepares for the opening of the Larchmont location, Betsy hopes to make more contributions and work on recipe development as she assumes her leadership role. Growing up, Betsy recounts that she sought inspiration from chefs like Ina Garten, the late Anthony Bourdain and her travels around the world. "I love traveling and immersing myself in a culture wherever I go. Whether it be in Europe, Asia, Africa or Australia, I love how culture speaks to the cuisine of that particular place, which is why I loved Anthony Bourdain," she explains.
Thinking locally, Betsy says that Nancy Silverton has also been a big inspiration for her. "The way she cooks reminds me of my mom. It's very simple. She doesn't do anything too extravagant. She takes very classical dishes and adds a little touch to them," she says.
When asked what her top priorities are when it comes to leading a kitchen of her own, Betsy says, "Knowledge is endless. You can never be too old or wise. I'm always looking for people that are trying to learn and not staying complacent but looking for the next step."
As Betsy makes plans for her future, she shares that "my sister also has a passion for food and has been in the professional business world for 15 years. She's excited to take a step back, and we want to create a small restaurant group called Sister." The duo has sights on opening their flagship in Fresno, with concepts similar to Gjusta's deli, bakery, café and market-style locations. "It's hard to say what it'll be, but we're both really enthusiastic about it," she says.
Betsy hopes to embark on a year-long culinary research trip with stops in places like Italy, Greece and Spain to further her knowledge before launching her restaurant ventures. At Sister, Betsy hopes to share her passion for food. "I would love to create experiences that trigger a good memory. I think it's important to sit down and bond over a meal and have good conversations."
Follow your passion for food with career training at ICE LA.