ICE Alum Anthony Jackson's Career as Padma Lakshmi's Chief of Staff
The grad has 10 jobs rolled into one.
Though he always loved to cook, Anthony Jackson (Culinary, '13) earned a degree in journalism from the University of Missouri and spent three years working in public relations before taking the leap to pursue food on a professional level. His culinary education at ICE and his writing background led him to a job that combines all of his talents as Padma Lakshmi's chief of staff.
"Everybody in my family learns to cook — whether you want to or not," Anthony says. With a home economics teacher for a grandmother and an enthusiastic home cook for a mother, he grew up with the idea of cooking as a basic life skill. His love for food naturally developed from there.
As a recent college graduate living in New York, Anthony found cooking dinner as a way to relax after the workday. "I worked for a PR firm and just really wasn't happy with what I was doing," he explains. "I didn't really enjoy the clients that I was working on. I didn't feel like they spoke to me personally, and I feel like you do your best work when you're passionate about what you do."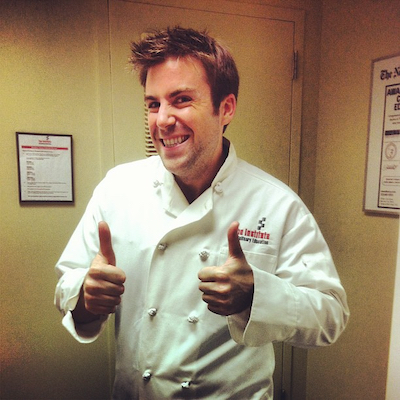 Anthony's friend from his undergraduate studies just happened to be ICE Director of Admissions Hillery Wheeler. She encouraged him to apply and he obliged. "I had been trying to transition out of traditional PR for a while and just thought that going to culinary school would give me more of a foundation for the type of food media that I wanted to get into," Anthony says, adding that he knew he didn't want to work in restaurants.
The scheduling flexibility that ICE offers was a major attraction for Anthony, who knew he would have to work while he was in school. He opted for the part-time program and attended on Sunday, Monday and Tuesday evenings. "I liked that the classes were small," Anthony remembers. "I feel like we got a lot of good, one-on-one attention that way. I made some really good friends in the program. I got a good foundation in the things that I wanted to learn about."
While at ICE, Anthony began a communications position at Chef Michael White's Altamarea Group. He worked in the corporate office and ran the social media accounts for all of the group's restaurants. "They didn't really have any social media presence when I started, so I would go into the restaurants, take pictures of new dishes, and put them up on Instagram, Facebook and Twitter. Back then, I don't remember anyone else doing anything like that, at least not to the degree that it is today," he reflects.
This role allowed him to complete his externship within the Altamarea Group, staging in each restaurant for two weeks. "I did everything from working as a garde manger at Ai Fiori to working the line at Marea," Anthony recalls. "I did some catering at Costata, which was their steakhouse, and I made pizza at Nicoletta, the pizzeria in the East Village." Beyond allowing him to meet his graduation requirement and exposing him to a variety of kitchens, the externship provided him with useful insight for the company's social media.
"It helped me to be able to communicate what was special about each of the restaurants," Anthony describes. "I got real, hands-on experiences from the chefs and was able to speak a little bit more about the personality of each restaurant and some of the special touches that were different at each place."
When a handful of the group's restaurants shuttered, Anthony was one of many corporate staff members who were laid off. He immediately turned to ICE's career services office, and Tessa Thompson helped him secure a new job just six weeks after he lost his old one.
At the time, Padma Lakshmi was looking for a culinary and editorial assistant to handle social media, photography and recipe development. Fellow "Top Chef" judge Gail Simmons (Culinary, '99), who is also an ICE alum, recommended that Padma enlist ICE to find someone with Anthony's exact skill set. He was hired soon thereafter.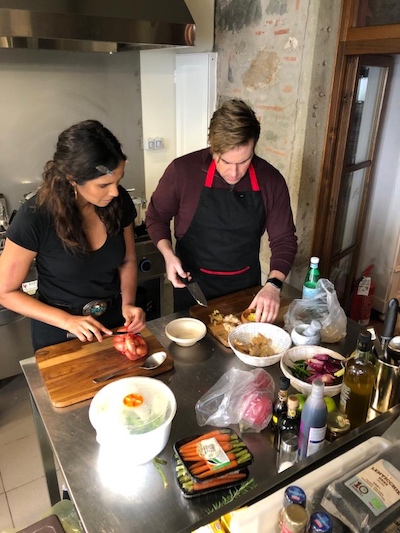 Now, Anthony has been working with Padma for four-and-a-half years and acts as her chief of staff. His responsibilities include running her business ventures, developing recipes, shooting food photography and associate producing her new Hulu show "Taste the Nation with Padma Lakshmi."
"One of the nice things about my job is that no two days look the same," says Anthony. His day-to-day tasks depend on Padma's current projects, so he could be creating digital content, coordinating appearances, negotiating an endorsement deal, or researching for an episode. In the past, he contributed to Padma's book, "The Encyclopedia of Spices and Herbs: An Essential Guide to the Flavors of the World."
"I'm grateful that a job like this even exists because it is a combination of all of the things I love to do," Anthony says. "I get so much intellectual stimulation from being able to exercise so many different creative muscles."
Television is the newest outlet for Anthony's creativity. Though unplanned, he's glad he happened upon the entertainment industry. "I did not imagine that I would ever be working in television, but I guess it's a happy accident that I found my way into it," he says. "It's something that I've really enjoyed doing."
With "Taste the Nation," Anthony works behind the scenes to highlight the cuisines of the country's immigrant communities. From the Gullah Geechee people of South Carolina to the significant Thai population in Las Vegas, the subjects that he and Padma chose accurately showcase the culinary diversity in the United States.
"I feel like a lot of people who are more conservative or anti-immigration have no problem eating Mexican food or Chinese takeout, but they don't often stop to think about the hands that make that food," Anthony says. With his help, Padma's platform is giving a voice to those who haven't had the opportunity to tell their own stories.
When the pandemic hit, Anthony was in the post-production stage of creating the show. For the first part of quarantine, he moved in with Padma so that they could watch cuts of the episodes and give notes to the editors. They also developed recipes for a cookbook of a similar theme, which will likely be published next year.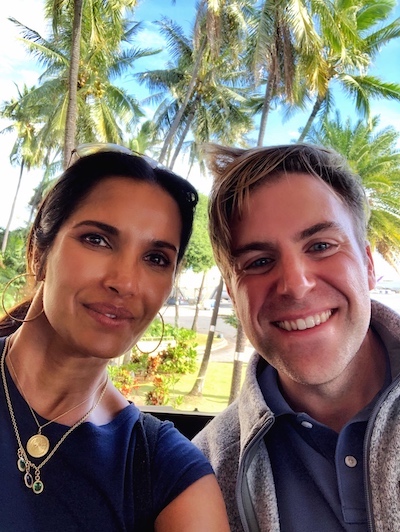 "Taste the Nation" premiered in mid-June, when the country was reeling from the effects of the coronavirus and experiencing an uprising against systemic racism. "We could not have predicted the kind of environment we would release the show into, but I do think that it came at just the right moment," Anthony observes.
Recent events have also spurred a revolution in Anthony's specific field. "Food media is having a long-overdue reckoning," he remarks. "I'm glad that people have decided to speak out. I'm glad that we're having to have these tough conversations because I think that ultimately we're going to be better for it if we could just give attribution to the people and cultures that deserve it."
Anthony and Padma's effort to illuminate such cultures has earned them a second season of the show. While it's unclear when filming will be possible again, it'll definitely happen once it's safe. At the moment, Anthony is just thankful to have a multifaceted job, much of which is possible to do remotely.
"I'm grateful that I made the decision to go to ICE because I wouldn't have the life or career that I do had I not been brave enough to take that step and pursue something that I am incredibly passionate about."
Pursue your passion with ICE's diploma programs.