Three ICE Alumni Thriving in Food Media
These Culinary Arts grads pursued editorial paths in New York City.
Jenna Helwig (Culinary, '07), Cecily McAndrews (Culinary, '13) and Shay Spence (Culinary, '14) apply their culinary education to food editor and director positions at Real Simple, Callisto Media and People Magazine, producing compelling content.
Jenna Helwig wanted a career in television when she was in college, so she worked for a television entertainment company for years. But over time, it became more and more disenchanting.
"While of course I went to culinary school to help establish a platform for myself, gain credibility and make connections, I really went because I was so hungry to learn more about food and cooking and then transition into a new career," she says. "I knew that there was no place else I could learn so much so quickly. I chose ICE for many reasons but one big one was that it was supportive for career changes and part-time programs."
Jenna completed the Culinary Arts program while staying at her job and with a one-year-old at the time. Throughout nine months of classes, she found opportunities to boost her confidence and learn more than she expected.
"I really went in with a lot less experience than a lot of people. Some people already knew how to do a lot of stuff. I didn't come from a family that cooked a lot. I never considered myself a natural chef," she says. "I promised myself I would not be intimidated by anything. You can make the decisions to make the program go a little easier, but I tried all the hard stuff."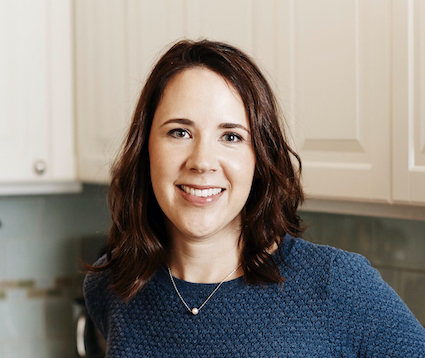 ICE gave Jenna a foundation that she could do the cooking, which in turn gave her the confidence to network and reach out to people who could change her career — and some did. By the time she finished the program, she decided to go into personal cheffing and instruction. One connection asked her to write an essay that ultimately turned into recipe development. This opened the door to Parents magazine, where Jenna worked as a senior food editor and continued to climb the ladder. Eventually, she took on the role of food director for Parents and Health magazines, under the same parent company. She did this for almost seven years before moving over to Real Simple, where she leads the small team responsible for creating around 20 pages of food content for the magazine every month, including about 15 original recipes.
"I fantasized about ending up in this position. I always loved magazines, and if you would ask me about my dream job, I would have said I wanted to be the editor of Gourmet magazine, and it would have seemed outside the realm of possibility, but looking back, I did make the choices that put me on that path."
Jenna confirms that she didn't set out with a hard plan of exactly how to make her dream job possible. Instead, she let herself be guided by her training and interests. Today, she develops recipes for feature stories; tests products like olive oil, ice cream and vegan hot dogs for the magazine's monthly Road Test column; gives creative direction for photo shoots; and appears in self-shot cooking videos. Jenna often writes the Things Cooks Know column with topics like How to Choose Sustainable Seafood and Baking Better Biscuits and Shortcakes.
"My favorite part of my job is the satisfaction of coming up with an idea and many months and a lot of teamwork later seeing it come to life in the pages of the magazine," she says. "I also love working with my smart and talented colleagues on a daily basis. I learn so much from them and love to see their passion for their work."
In addition to the magazine jobs, doors opened to the world of writing cookbooks, the fifth of which is in progress.
"When I went to ICE, I didn't know much of what I wanted to do for a career besides think about food all the time," Jenna admits. "And now I do that! It's kind of a miracle."
Shay Spence studied political science and government at Tulane and planned on going to law school. After graduating from college, he moved back home for a year and was supposed to be studying for the LSAT. Instead, he ended up working in a restaurant kitchen and at a food truck.
"I developed an unhealthy obsession with the Food Network, and it suddenly dawned on me that food and cooking were what I was most passionate about and what I wanted to do for the rest of my life," he says.
Working in media became the goal, which is why Shay chose ICE. The program had opportunities for students to do externships at magazines, not just restaurants. His brief work in restaurant kitchens before ICE gave him the sense to know that while working in food was of interest, working in restaurants was not. Today, Shay writes and edits food content for People magazine and People.com while working on a web show called "First Taste" with People TV.
"Using ICE's network to get externship interviews at Good Housekeeping, Martha Stewart and Rachael Ray is the main reason I was able to meet people in the industry and move up in my career relatively quickly," he says. "It's funny working at People now because most of my colleagues went to school for journalism, but I ended up working at the biggest entertainment magazine in the country by way of culinary school. It's nice to have a unique expertise that sets me apart from my coworkers and that they value."
Initially, though, Shay was scared to make this career move. It seemed anything but secure, he says, and a lot of people thought he was crazy for pursuing a career that he barely knew existed.
"I won't say everyone should do it, and I wouldn't go into it thinking you'll be the next Bobby Flay because that's probably not going to happen," he says.
Ultimately, though, he's glad he followed his instinct. He might have made more money had he gone to law school, he says, but he'd be way more miserable. Shay remembers his time at ICE fondly and is still in touch with friends from the program, some of whom live all over the world.
"I can't say exactly how my career would have gone had I not gone to culinary school, but it absolutely helped get my foot in the door. I didn't know anyone in media — much less food media — when I arrived in New York, and you soon learn that like many industries, it's often about who you know," he says.
Cecily McAndrews never conceptualized food media as a line of work while growing up. She got an English degree from Mount Holyoke College in Massachusetts, but culinary school was always in the back of her mind. After undergrad, she was hired at John Wiley & Sons, a publishing company where she worked for three years editing cookbooks.
"I got to work on the revamp of 'How to Cook Everything' [by Mark Bittman] so I would read every page of that cookbook and then go home to my first real kitchen and learn more about new flavors," she says. "Then I got a job at a now-defunct magazine called All You, where I was an associate food editor."
While working for All You, Cecily had the opportunity to attend many food events where she noticed the people she networked with had one similar piece of experience she didn't have: culinary school. So she decided to join her peers and get a diploma herself, completing Culinary Arts in nine months on Wednesday nights, Thursday nights and Saturdays — on top of working.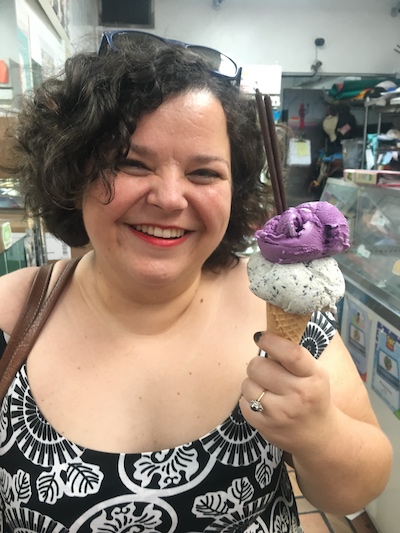 "It was so fun, and I was exhausted all the time. It felt like camp because I was with like-minded people cooking and eating delicious things all the time. It was just a great time of growth," she says.
A stint at Gramercy Tavern proved to be very educational in two ways. First, she learned she didn't want to work in restaurants, but she also learned about a galaxy of produce she didn't know existed and what techniques to use with them. From there, her career took off in an exciting, upward direction: After working at Parade, she went to Rachael Ray's magazine, where the company shared a test kitchen with other brands.
"I met a lot of people there, and having a test kitchen was another level of education so I learned how to taste there," she says. "Hearing how colleagues evaluated their dishes was really educational."
Next on the career ladder for Cecily was Food Network Magazine, which she says broadened her horizons.
"At magazines, you have to absorb the voice and learn to speak to those readers, which is a good exercise in empathy," she says. "You learn what your readers are looking for and how to best serve them."
Things have come full circle, though, as Cecily is now back in cookbooks at Callisto Media, where she gets to work in different parts of the food world and stay on her toes — all the things she wanted out of a career in food media.
"My advice is that before you go to culinary school, don't forget the practical side of things. Go for your dreams but try to have a plan. Try to make as many connections as you can while you're there because your connections will pull you through lean times," she says. "There are a lot of wonderful people in the world, and beyond the sheer value of friendship, they can help you immeasurably professionally."
Pursue a career in food media with ICE's diploma programs.