One NYC Patisserie: Five ICE Alumni
Meet the all-ICE-alumni pastry and management team of Macaron Parlour.
Christina Ha (Pastry, '10/Management, '11) had a desk job five days a week when she first started her program at ICE. The founder and head baker of Macaron Parlour, which has two locations in New York City, was a student in the Pastry & Baking Arts weekend program.
And it was worth it. After externing and then working for Locande Verde, Smith Canteen and Seersucker, she and her now husband Simon Tung (Management, '11) — also an ICE alum — decided to go all in on macarons, selling them at the Union Square Holiday Market. Using money from holiday market success and their wedding, she and Simon opened their first location of Macaron Parlour on the Lower East Side in 2012 and then a second location on the Upper West Side in 2014.
What sets this success story apart is that today, the entire pastry kitchen is made up of ICE graduates. On top of that, they're all women.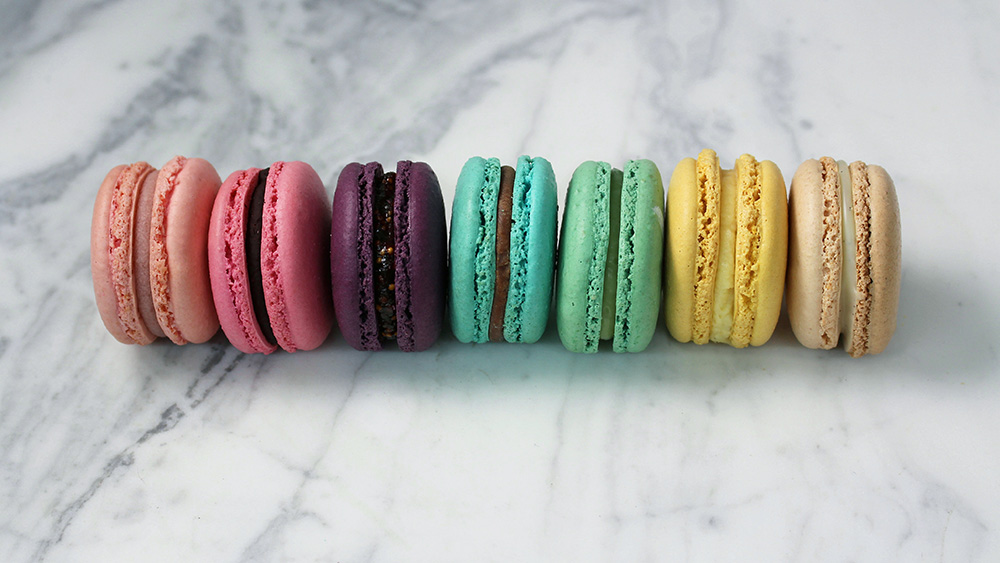 "Macaron Parlour is known for our creative flavors, excellence in execution and friendly neighborhood vibe," Christina says. "We basically make sweets that are delicious, fun and approachable. We're probably best known for our Cheetos macaron — we are the original creators of turning Cheetos into dessert!"
Macaron Parlour is also well-known for its character macarons in fun shapes like ladybugs and unicorns. They also make incredible croissants and scones in flavors like black tea and orange zest, honey lavender, savory thyme and more.
As far as the all-ICE-graduates-and-all-female kitchen, Christina says it was kismet.
"It just happened naturally," she explains. "We've been open for a while and hiring for seven years so I have had people from basically everywhere, but with this group it just clicked."
The team under Christina comprises Karla Francois (Pastry, '12), Alexa Ventura (Pastry/Management, '19) and Lauren Kujawa (Pastry, '14), and their roles are more or less interchangeable.
"I wanted everyone to have a rounded experience and be able to jump in on all tasks. Everyone has been able to create new product and everyone is able to make macarons," Christina says, adding that it's the first time that her kitchen has run so smoothly.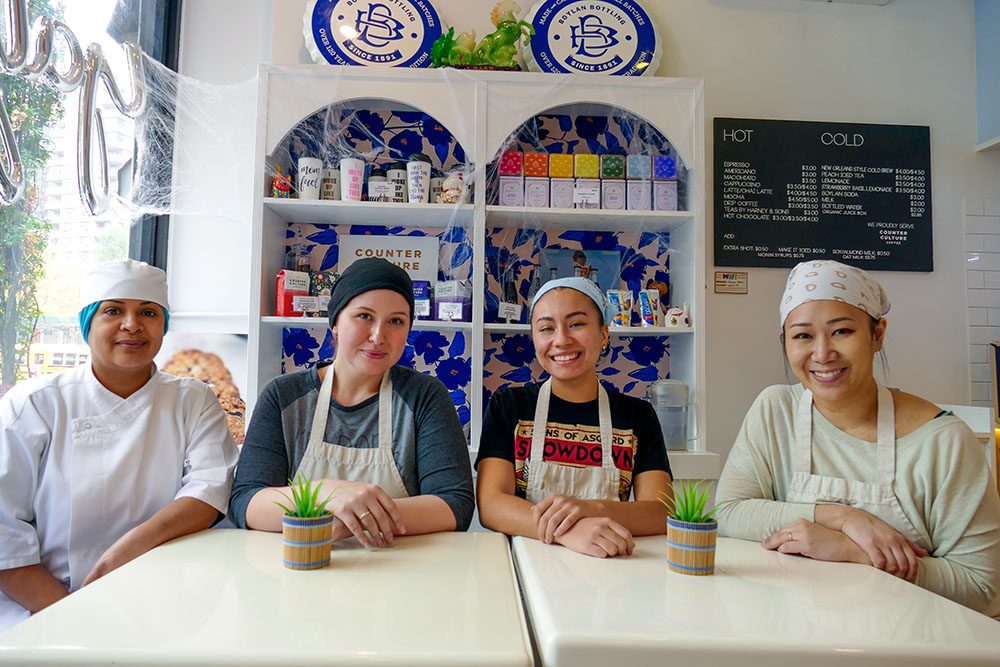 "I've had so many talented people work for us, but this is the first time that we've been this efficient and on the same wavelength," she says. "We're not all the same age and we didn't go to school at the same time — there's close to a 20-year age gap between all of us — but we get along really well and we have the same values."
Part of that came out during the interview process when Christina was able to inquire about chef-instructors and a program she's familiar with.
"Since I'm familiar with that curriculum I'm able to learn their strengths and weaknesses and I can hear about the program and that dictates to me things like, oh, it's fine if you were terrible at chocolates because I am, too," she says. "Who their favorite teacher was tells me a lot about how they receive information or the work environment they enjoy being in."
Additionally, working together is a cinch because Christina doesn't have to tell her employees how to do things more than once.
"I know where their foundation is and I get to build upon what these people know and add to it. I think about where they're coming from. We fell into a rhythm with each other really fast and that's been so nice as a boss," she says.
What's also nice is the fun these women have in the kitchen together. Karla says it's very entertaining, full of everything from what Beyonce is posting on Instagram to what results everyone got on a Buzzfeed quiz.
"It's an environment where our interests align in and out of work," Christina says. "If I am texting them it's not about a bad batch of macarons from that day, it's about something I found that was funny, it's because I was thinking about them and we're friends."
Join the club: Study Pastry & Baking Arts and Restaurant & Culinary Management for a dual diploma at ICE.