Keller, Boulud and More at ICE for Prestigious Ment'or Competitions
The ment'or BKB Foundation is a nonprofit organization that aims to inspire excellence in young culinary professionals and preserve the traditions and quality of cuisine in America. The group held their prestigious 2016 Young Chef and Commis competitions last week in ICE's kitchens. Ment'or is led by Daniel Boulud, Thomas Keller and Jérôme Bocuse—considered three of the world's most celebrated chefs, with nearly 20 restaurants and over 30 industry honors between them—who founded the organization together in 2008 and came to ICE last week to oversee the day's events.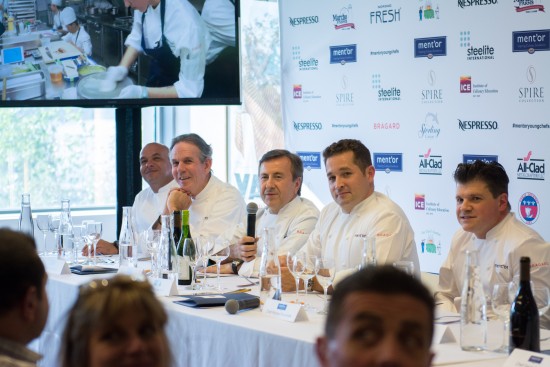 The judges panel was a veritable "who's who" of the country's top chefs, including:
Daniel Boulud – Chef/Owner, Restaurant Daniel, DINEX Group, 4-time James Beard Award winner, including "Outstanding Restaurateur" and "Outstanding Chef of the Year"
Thomas Keller – Chef/Owner, The French Laundry, Per Se, Thomas Keller Restaurant Group, 4-time James Beard Award winner, including "Outstanding Chef: America" and "Best New Restaurant (Per Se)"
Jérôme Bocuse – Vice President, Bocuse d'Or USA and Chef/Owner, Les Chefs de France
Gavin Kaysen – 2007 Bocuse d'Or US team member and Chef/Owner, Spoon & Stable
Philip Tessier – Winner of the 2015 Bocuse d'Or Silver Medal
Barbara Lynch – Chef/Owner, Barbara Lynch Gruppo
Bryce Shuman – Executive Chef, Betony
Chris Hastings – Chef/Owner, Hot and Hot Fish Club
Gabriel Kreuther – Chef/Owner, Gabriel Kreuther
James Briscione – Director of Culinary Development, Institute of Culinary Education
James Kent – Executive Chef, The NoMad
Richard Rosendale – Chef, Rosendale Collective
Mathew Peters – 2017 Bocuse d'Or US team member and Executive Sous Chef, Per Se
Robert Sulatycky – Founder/Principal Chef, Taste Restaurant Group
Shaun Hergatt – Chef, formerly of Juni and SHO Shaun Hergatt
Timothy Hollingsworth – Chef/Owner, Otium and Barrel and Ashes
These events give skilled young chefs the opportunity to showcase their talents in a live cooking demonstration. Winners have the chance to stage with the 2017 Bocuse d'Or Team USA and attend the finals this coming January in Lyon, France.
ICE students also had the unique opportunity to volunteer during the event. Christopher Lewnes, an ICE culinary arts student had this to say of his experience: "I was truly inspired by the young chefs who were participating in the competition. Seeing other young chefs doing what they were doing and all the different techniques displayed, I was motivated to learn more and achieve more to become like them. It was also enormously inspirational just to be in the presence of chefs like Daniel Boulud and Thomas Keller."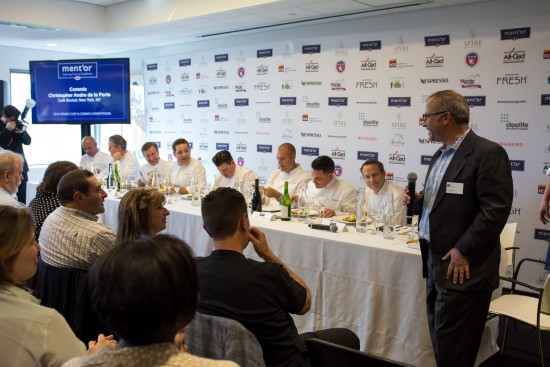 Ment'or offers annual educational grants and internships to culinary professionals through their Continuing Education Program, affording young chefs the opportunity to earn a paid stage anywhere in the world. For young professionals who have already begun their career, the Young Chef and Commis Competition series provides these ambitious individuals with a chance to add increased value to their work through educational opportunities and access to a network of esteemed mentors. ICE students and alumni can have the honor to participate in these prestigious programs. Applications for the competitions are announced via their social media at @mentorbkb.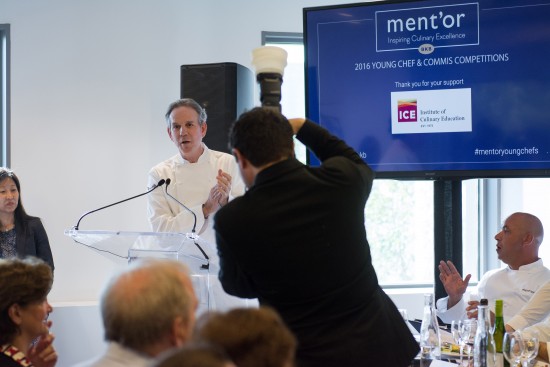 According to ment'or President Chef Thomas Keller, "As established chefs, it is our responsibility to create and foster programs that promote mentorship and shared experiences which elevate and influence the next generation of chefs in the United States." ICE is proud to be a part of this prestigious organization and help the next generation of chefs find their culinary voice.