Kim Malek's Salt & Straw Story: From Fear to Cult Following
The co-founder and CEO of the rapidly expanding ice cream chain visited ICE for a Meet the Culinary Entrepreneurs lecture weeks before the brand's latest location debut.
If you've ever visited a Salt & Straw ice cream shop, or even if you have only passed by, the first thing you notice is a perpetual line. There's a crowd outside waiting excitedly along a stanchion and you may wonder what's so special about the place.
The flavors like sweet potato casserole and maple pecans, bone marrow and bourbon-smoked cherries, and roasted strawberry with toasted white chocolate are anything but run-of-the-mill and, more importantly, they work. So much so that the team has developed more than 500 variations since serving the first scoop from a little cart in 2011.
Salt & Straw's cult following began in Portland, Oregon, and has spread to more than 20 locations, the latest of which opened down the street from ICE in Pasadena this week. The co-founder and CEO, Kim Malek, shared her success story with culinary management students earlier this month, from getting into the ice cream business to risks, rewards and an emphasis on community in everything she does. Here are some of the highlights.
How was the idea of opening an ice cream shop generated?
I was really struck by the community feeling of Portland; it's a pretty small city and close-knit. We don't have a lot of big industries; we have one Fortune 500 company in the whole city – it's very entrepreneurial. I always say people bring you in and lift you up [there]. I loved that feeling. For some reason I could really clearly see an ice cream shop being a good way to capture that spirit and a place where you could run into your neighbors and spend time with friends and family.
When did you first put the plan into action?
I had a sense that it could be really creative, which is what I love about food and working in the food world, but I hadn't mapped it all out. That was 1996. I wrote the business plan and started looking for real estate, but I realized my father had gone bankrupt running his own small company, and I thought this seems like a really bad idea. So I tabled it until 2009 when I moved back to Portland. I lived in fear of that idea.
You became the director of Frappuccino at Starbucks in the meantime. What did that entail?
I got the opportunity to open new markets and learn how you pick real estate and what matters: How do you know what areas to go into? How can you understand what people in that neighborhood would want and respond to? As we grew the company, I got to go on that really interesting adventure. Then I ran a couple different business units: Frappuccino was one of them and Starbucks coffee was another. That was a cool opportunity because you get to run the P&L, which means you own whether or not that segment of the business is profitable for the company — coming up with new products, making sure we're sourcing at the right rate and charging at the right rate and that we have enough to sell and we're marketing it — like a business owner. It was a cool experience because getting to learn how to grow a street-front restaurant or shop and then learning how to run the business was really good experience to start my own business.
What was the impetus to resurrect your idea of opening an ice cream shop?
I had this business plan and I was sitting at my partner Mike's kitchen table, reading the Sunday New York Times, and the front page was about this new ice cream company in San Francisco, Humphry Slocombe. And I shouted, "That was my idea! I had that idea in 1996, and I never did it! And now he's doing it and … argh!" I was just freaking out and I remember Mike just looked at me, he's the calmest person who ever walked the earth, and he said, "Well, you should do it." That was the first time I put pen to paper and dusted off the old plan and started sharing it. The idea was still around creating a community gathering place, that's what I wanted it to be.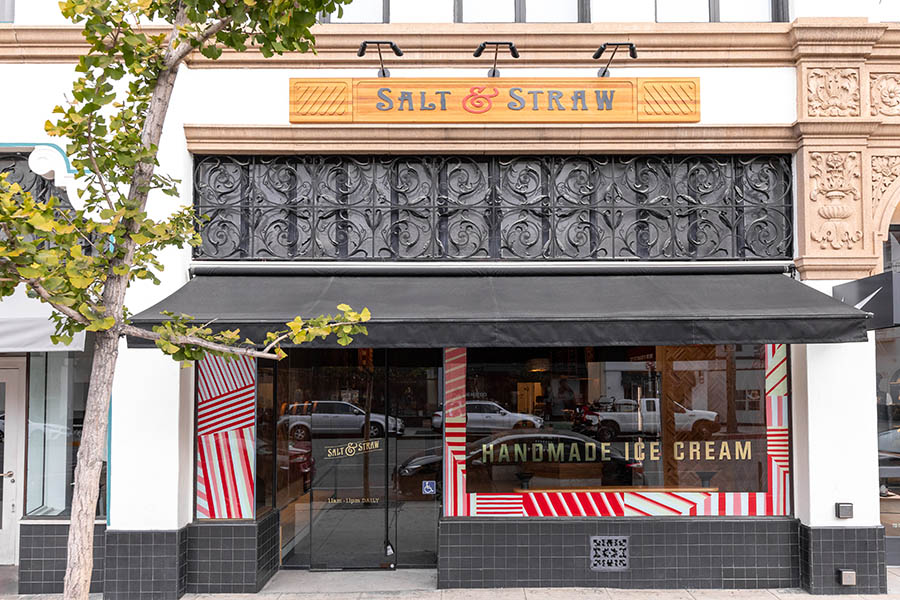 How did you go about developing flavors?
I remember the first time when Tyler [co-founder and cousin] moved in with me, I said to him, "I think we should have a maple bacon flavor." He responded, "You know Denny's has that on the menu right now?" Being Tyler, a few days later he said, "I need to know the local beer scene here in Portland and I think a brown ale could have the same experience of the maple that you're looking for."
Next thing I knew, Tyler was in the back room with the brewers figuring out how to brew beer using ingredients that would have that same effect in cream, instead of just pouring it in. It was like 1 +1 = 11. We realized through that process that every flavor we create needs to have that relationship in which we really know someone who is making something, sit down across the table from them and collaborate to turn it into a flavor. From there we called Olympia Provisions, a local charcuterie house that's off-the-charts and we didn't even have a company. We told them what we wanted to do and they had us over to help figure out how to select, candy and do everything we wanted to do with bacon. That concept of neighborhood and community is part of everything that we do.
How did you end up starting with a cart?
I didn't know how long it takes to find real estate, sign a lease and build a store. We found a location, but it's really hard to get a landlord to take a chance on you. By the time we found it and got everything in order, we weren't going to be open until late August. We're an ice cream company and we need to be selling in the summer. We thought, let's put out a cart for the summer and start selling ice cream and learning.
It turned out to be the wettest summer on record in Portland. We were standing outside and it was literally raining sideways. I kept thinking, What have I done? This is a terrible idea! It was actually a cool way to know the local community and learn this worked, this didn't, people liked this — in a really small way that wasn't so risky. By accident, it was probably one of the greatest things we could do.
How did you fund your first shop?
This was 2008-2009 when we were in a recession — I didn't let that stop me. I went out to meet with banks to get some money. They all met with me, were so nice and went through my business plan to make it fine-tuned so I knew how much ice cream I needed to sell to make money. I had a really good business plan, but no money. I remember one day I was looking through my files and I saw my 401K, my retirement, and I thought, I do have money! I made a call and cashed it in and that was the money we used to fund the company.
How did it take off?
Through all these collaborations we had a lot of stories to tell about pretty interesting things — whether a fifth-generation beekeeper outside of Portland or the charcuterie house or this brand new bean-to-bar chocolate company, one of the first who was roasting in his basement, Woodblock — we had all these incredible people we were working with and it caused the flavors to be different. You're not expecting these flavors: We don't do it because we want to be weird, we do it because we were inspired by this person that we met and collaborated to come up with an expression of their craft through ice cream. Back to that community and neighborhood concept is what leads us down that path.
We change our menu every single month, so the first Friday, there's a whole new menu. It's very thematic this time of year, we've done a food waste menu, we waste 40% of our food and yet people are hungry amongst us and we could use that food, so we made a menu about food that was going to be thrown away. Every month it's either what's seasonal or what we think are important societal issues or something going on in the food movement. Next June we're doing a menu with all first-generation female chefs and immigrants. As we head into the election we just want to share stories of people in our communities and how you can learn about culture through food. We do a lot of marketing and rely on PR and social media. We have so many stories to tell that it really is storytelling.
How does social media play into that?
We have some pretty fantastic folks at our company that are practically documentarians, and they are going through our kitchen showing how flavors are made, our customers, and visiting farms where we are sourcing ingredients or other collaborations. We think of our social media almost like a magazine — we plan it out. What do you want to be communicating to people? Our whole philosophy is we don't want to be selling anything ever, we just want to share this information about what we're up to and things we think you would enjoy.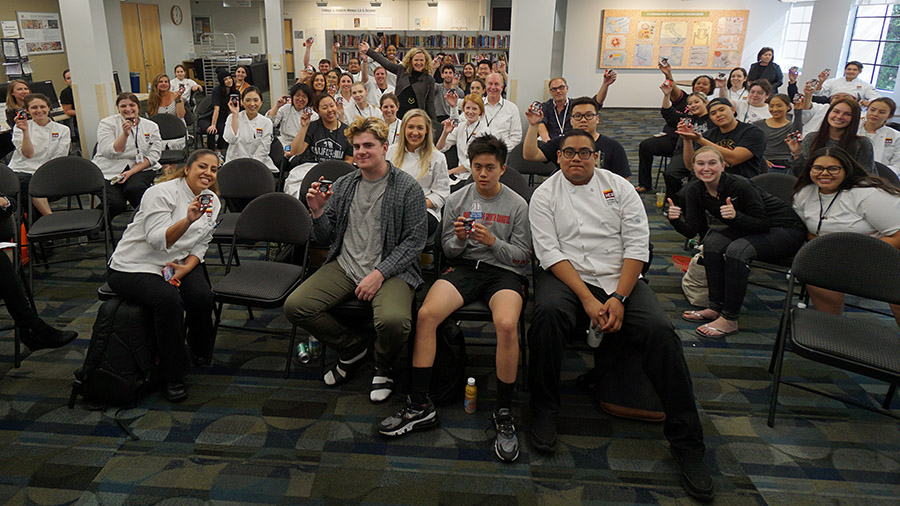 What are your hiring practices and how are they different?
When Casey Milligan [VP of culture and development] joined the company, she brought [Danny Meyer's book, "Setting the Table"], which is all about enlightened hospitality and the difference between customer service and hospitality and how you create a company and a culture around this idea. We're students of this philosophy, we were talking about it all the time and then we found out that they had a course in New York, which sadly they don't offer anymore. So we scrounged together our pennies and flew to New York. The course was great: We met Danny Meyer, who is now on our board, and what came out of it for us was that we want to operate in the hospitality industry differently.
We created this robust training program around not just how to do your job, but how to connect with each other, how to connect with customers — some pretty cool life skills. We were running our own training for a while and people said we should trademark it. We started working with different community groups. In San Francisco, we work with the United Way and we give the training away and teach them this information with hopes we will be able to hire and other companies will hopefully benefit from folks going through this program, too.
Now we're starting a new chapter in which we are working with the women's prison in Oregon. Starting in six months, we'll be going in one day per month to do a training with those who are about to leave the prison system. Once they go through this year-long hospitality training, they will be Salt & Straw certified, and hopefully, we'll get to hire them and some of our other folks in the Portland community will be there. We found that 80% of women in the Oregon state prison system were victims of domestic abuse, and I think there's a role we can play in this industry with this problem in this moment. With hiring instability, we can give a career with a good living wage in a long-term career. We're uniquely positioned in the hospitality industry to do some things really different like that, and we want to take a leading role with respect to that. That's how we think about hiring, and we hire a lot: We have 900 employees.
What advice do you have for aspiring entrepreneurs?
I don't mean this to be a cop-out, but one of my favorite pieces of advice is to not take advice. Constantly you hear, "Oh this is what you should do." Which is fine, but my motto is: Share your experience with me, but don't tell me what to do. I think, especially for the women in the room, it's not an accident that I had a business plan in 1996 and I opened a store in 2011. Women tend to carry things around with them and perfect them before they will show anybody anything — this is in politics, business, sports — it's across the board. I'm always careful. I like to hear stories and when I go to my mentors and people who have been through this before, like Danny Meyer, I won't say, "Can you give me some advice?" I say, "I'm facing this and can you tell me your experience with this." Then I'm going to take my own way forward.
Develop your business plan in ICE's Restaurant & Culinary Management program.