From Marine Corps to Linzer Tortes
Photography and military service preceded culinary school for this pastry student.
Pastry & Baking Arts student Victor Guzman has fulfilled his dreams of working in commercial photography and serving in the United States Marine Corps. Now, he's pursuing a new form of artistry with his third career goal — professional baking.
"Ever since I was in high school, I always wanted to join the military," Victor explains. Though when he graduated, he took a detour to earn a degree in graphic design and web development first. He spent two years at CUNY Hostos Community College in the Bronx, followed by two years at The City College of New York, completing his studies in 2017.
Victor initially attempted to identify businesses that needed logo and website design but was unable to acquire any clients. The job he secured instead, however, more than made up for his adversity. He was hired as an in-house photographer at the American Museum of Natural History, where he documented events, special guests and many visitors. This position allowed Victor to meet people from all different backgrounds, which suited him well.
"I'm an extrovert, so anytime I get the chance to talk to someone, I like to talk for a good amount of time," he says.
Unfortunately Victor was one of a handful of staff members laid off due to budget cuts. "It was upsetting and disappointing, but it was a good experience for me," he says.
Explore a career change at ICE.
The departure led Victor to finally enlist. Coincidentally, a childhood friend who was already an active Marine reached out to help him get the process started. Once Victor signed up, he endured nine months of intense physical workouts and mental preparation that included formal boot camp.
Though Victor knew that military training would be taxing, the adjustment was more difficult than he anticipated. Awake and active from 3 a.m. to 10 p.m., his days were nonstop. Eventually, though, he acclimated to the stress and became a resource for those who continued to struggle. Victor was entrusted with the duty of monitoring certain areas and supporting friends dealing with mental breakdowns. "It was surprising," he says. "I never had to deal with anything like that before."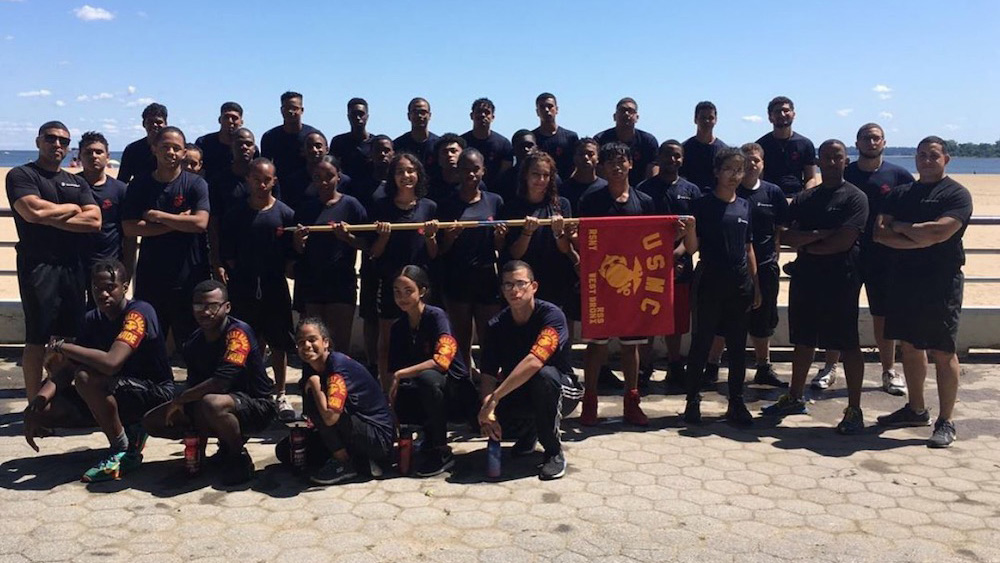 After Victor completed this stage, he moved on to Military Occupational Specialty school, where he was assigned to intelligence and logistics. He spent a year in this specific training environment before he was discharged due to a medical injury. Though this unplanned conclusion to his time in the Marine Corps was abrupt, Victor looks back on the experience fondly for the friendships he made, states he visited and skills he gained.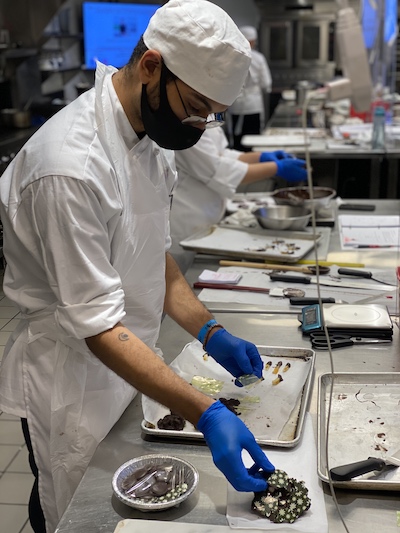 Now, Victor has pivoted his career to another longtime passion. "I've always had a little love for baking and cooking because of my dad," he says. "He used to work as a sous chef for Scholastic and would teach me to make mashed potatoes and decorate cakes. It was the way I bonded with him."
When Victor got out of the Marines earlier this year, he started baking cookies and cupcakes, so his girlfriend suggested he research culinary school. He quickly discovered ICE and enrolled in the Pastry & Baking Arts program.
Mere weeks into class, Victor already sees the parallels between the culinary world and his past professions. The perfectionism and aesthetic eye required for photography and graphic design translate well into baking, while the discipline and order structure used in the military are helpful in the kitchen. "The level of connection between the instructor and the student is the same as it was with my mentors in the Marines," Victor adds. "You have to listen closely to absorb their experience and knowledge."
Victor is already learning, as well. For the first time, he has crafted tarts, created caramel and poached pears. Though it's only the beginning, he has ideas for his future. He hopes to combine his web development and baking talents in an online cookbook, as well as open his own bakery one day. "It's been a really amazing two weeks."
ICE salutes the men and women of the military with active duty and veteran's benefits.