Meet Chef Alon Langleib
A Pastry & Baking Arts Instructor and Alum at ICE
Chef Alon Langleib (Pastry, '08/Management, '13) earned a dual diploma at ICE and built his career at renowned restaurants, including Andrew Carmellini's Lafayette Grand Cafe and Bakery and Josh Capon's Lure Fishbar, before returning to teach at our New York campus.
After serving in the Israel Defense Force (IDF) from age 18 to 22, Alon evaluated his strengths and weakness with his brother to determine a course of study and career trajectory.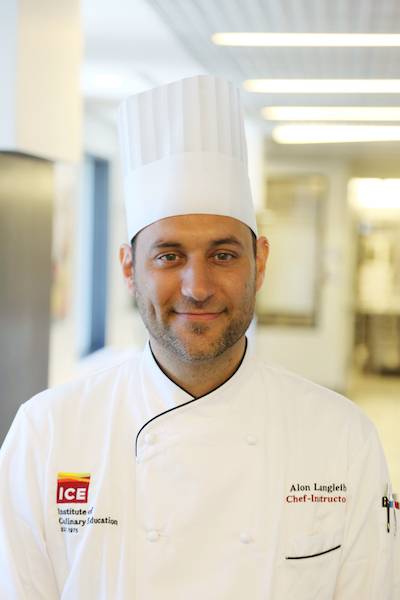 "I breathe food. I love everything about the world of food, and I didn't want to lose the passion," he says of the decision process. Equally as interested in savory as sweet, Alon anticipated being too tall to comfortably work the line in a professional kitchen. "I looked at my character and behavior. The pastry world is more tedious and particular. You need a little bit more patience, and it's all about weights, textures, temperatures... This really interested me."
He pursued an apprenticeship at Colson Patisserie in Brooklyn to dip his toe for three months and when a 2 a.m. to 9 a.m. shift only ignited his passion, he enrolled in Pastry & Baking Arts at ICE. "I wanted to invest everything to absorb all the information I could before starting my path," he explains.
Then he followed his passion for espresso and became a barista at Max Brenner while studying. "It let me discover the whole world of pastries, chocolates, sweets and confections, and it opened my mind to places I didn't know," Chef Alon says of the position that entailed expediting the line with dishes like marshmallow pizza and crepes. "That was the beginning for me."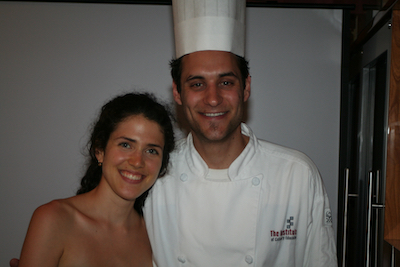 In classes at ICE, Alon discovered a finesse and precision with pastry that was fitting for him and picked up tips from his instructors that he still uses today. Then he began working for Florian Hugo at Brasserie Cognac from Serafina Restaurants, where Chef Alon developed his palate and learned to resist making pastries too sweet throughout five years.
"He helped me understand how a kitchen works," Chef Alon says of Chef Florian. "Everybody needs to know how to work together as a team. It's literally dancing together."
In 2013, Chef Alon returned to ICE for the Restaurant & Culinary Management program to "get more experienced and understand everything about the restaurant world," he says. "Management training gave me a lot of understanding of how to be a leader and the confidence to deal with people — pastry cooks, dishwashers, owners and restaurateurs who have a lot of influence — and to share my knowledge. It gave me great skills for how to create a menu, deal with labor costs and menu costs and know the brand. I left Lafayette and Lure with a bag with the logo on it every day and sat it by me on the subway to market the places without even being involved in that."
He was working as the senior sous pastry chef at Lafayette in Soho, training pastry cooks and directing interns and externs, while in the second program at ICE. "It really shaped me and let me understand a lot," he says. "Chef Jennifer Yee understood pastries and showed me the role of executive chef of a big production facility with a few arms and how to be a leader managing 10 or so people."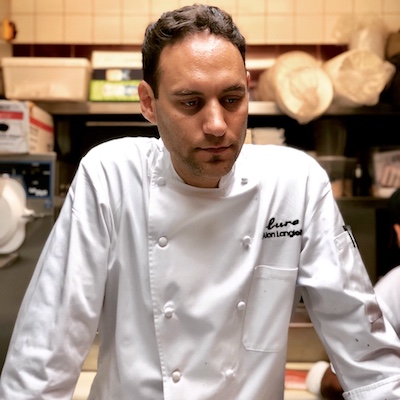 After two and a half years, Chef Alon took a break to backpack in Ecuador and then accepted the executive pastry chef position at Lure Fishbar, where he designed the menu quarterly with the seasons, taught, made specials, and prepared desserts and cakes. He worked with ICE Lead Chef Jeff Yoskowitz to host field trips and mentor externs from his alma mater.
"Three weeks into school, they'd come to Lure and sit at a big table, and I'd share with them everything that I know," Chef Alon explains. "I'd show them seasonality and desserts, talk about the menu, serve ice cream and sorbet, and let them ask any questions they wanted to help them feel more comfortable and open to the career path that they decided to take."
After five years at Lure, Chef Alon took time at home to be with his newborn son before coming full circle to teach ICE students. "I told Chef Jeff when I was in school that he'd see me be a teacher one day," Chef Alon reveals. "Suddenly I see the chefs who taught me things after 17 years, and I'm teaching with them. It's pretty amazing."
Chef Alon loves teaching the fundamentals and how to work with laminated doughs for viennoiserie. "To deal with yeast and dough that's literally alive and being affected from the air, the soil, the water around us is a pretty astonishing thing," he says. "It's wonderful to share my professional pastry techniques with all the students, and it's a great place to be around other professionals. All the educators love what they do and come here because they want to educate, which is really a lovely thing."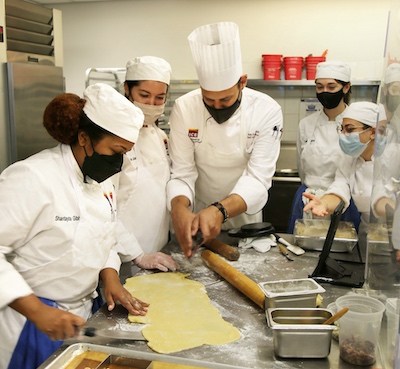 As for his approach in the kitchen classroom: "I see that every student is individual, each is different from the other, and I need to teach a collective of people to study with people that they don't know and to work as a team," Chef Alon says. "It's very challenging and very wonderful. We teach people who've never stepped in a kitchen and give them good habits, good basics, to prepare them for the next step in life."
Chef Alon enjoys mentoring and opening new students' minds. "The whole industry is fairly intense and tough compared to other fields so if you get the right tools from the beginning, and you build a positive, healthy and good foundation, that's the basis to continue in the business and get more experienced and more tough," he explains.
After all, educating is part of Chef Alon's philosophy as a pastry chef. "As I went on in my career and taught externs at the restaurant where I ran the pastry department, I passed on what I learned from other chefs. This is the way of life: to share and educate, not to keep it to ourselves. In the end, it's a small community and it's nice to stay in good connection with everybody."
He advises students to connect with the aspiring chefs around them, citing classmates of his who opened a business together after a decade in the industry. "It's great to hear when externs make progress, elevate themselves and become part of us - part of the business - and stay there," he says. "Build relationships and get to know people around you."
Build a foundation and connections in Pastry & Baking Arts at ICE.