Meet the Culinary Entrepreneurs: Top Chef Harold Dieterle
What exactly makes a "Top Chef"? Well, you could win a contest on a popular TV show, or perhaps run top-rated restaurants — or better yet, both.
During ICE's ongoing Meet the Culinary Entrepreneurs lecture series, ICE students, instructors and guests were fortunate enough to hear Top Chef winner and highly-regarded restaurateur, Harold Dieterle, shares his experience.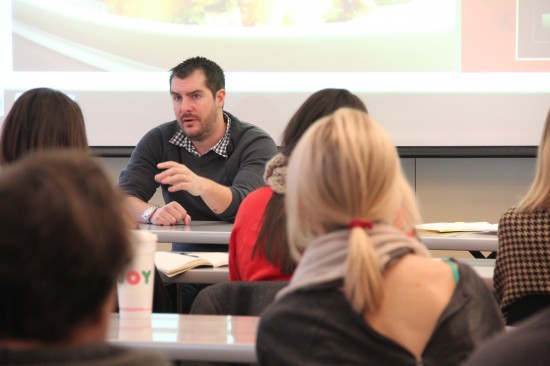 Born in Long Island and educated in New York, Dieterle's background presents an appealing scenario to aspiring chefs and restaurateurs, especially for our students who come from the New York area. His work history includes stints at well-known Manhattan spots, including 1770 House and The Harrison. He explained that his early interest in food came from helping with family suppers of traditional Italian and German fare. Dieterle claims to have polished his skills further in his high school Home Economics class (and also confessed that he thought it was a great place to meet girls). Relying on his experience cooking and working in the foodservice industry, Dieterle competed and won the first season of Bravo's Top Chef in 2006. Yet, given his multiple successes since then, this fact barely came up in our conversation.
The year following his Top Chef win, Dieterle opened his first restaurant, Perilla, with partner Alicia Nosenzo. When asked about financing this initial venture, Harold remarked that, despite his success on Top Chef, it still took a good year to pull the funding together. Winning the TV contest certainly made opening a restaurant easier, but investors are still generally wary of investing in a restaurant unless its owner can point to previous successes. "You have to be able to sell yourself to secure investor funds," Dieterle stressed.
When it came to discussing the development of his three West Village restaurants and the challenges posed by each — specifically, juggling his time between them — Chef Dieterle had some very practical advice. The partners wanted to develop businesses where they knew their audience and could better cater to their needs, hence the same neighborhood location. Perilla (New American with Asian Accents) is the more casual place for locals, having many regular clients that return frequently. Kin Shop (contemporary Thai Cuisine) was given 2 stars by the New York Times and was born from his interest and travels to Thailand, whereas The Marrow (contemporary German and Italian cuisine) taps into his family roots. From a logistical standpoint, having the restaurants located within walking distance of each other made them easier to manage. Still, an owner has to spend the time where it is most needed.
The Marrow, being the youngest and perhaps most complicated sibling, gets the majority of Dieterle's attention, while the more mature Kin Shop runs like a well-oiled machine. Harold was also very candid about some of the more practical aspects of food service, such as cost percentages and lease negotiations — highly deliberated topics in Culinary Management classes. "Kin Shop may have a better food cost percent, but one of the other operations is more profitable."
"Our first lease, we probably paid more than we should have and the construction was difficult, but it was a good experience that made the next negotiations easier." Further, Dieterle offered some earnest insights into relationships with partners and investors, concerns that are often discussed among graduating ICE students. According to Harold, communication, honesty, trust and maintaining the business focus are key to good associations. Harold worked with his partner, Alicia, at one of their earlier restaurant experiences were she was Director of Operations.
They knew each others' skills and they brought complementing talents to the table. Frequent meetings about each others' business activities and problems keep the discussions centered and forward-moving. Concerning investors, he advised searching for people that want to be part of the business for the right reason and to maintain frank and open communication. After this fast moving and varied discussion, Harold was asked if he had a final thought to leave with aspiring entrepreneurs, something that might help them when the road gets tough. His advice: "Keep focused, keep inspired. That's what keeps you going."
Pursue entrepreneurship in ICE's Restaurant & Culinary Management program.