ThinkFoodGroup's Sam Bakhshandehpour on Restaurant Lease Agreements
The president and co-CEO of Chef José Andrés' restaurants oversees nearly 30 concepts in nine cities.
Restaurant business leader Sam Bakhshandehpour shares his approach to negotiating and securing restaurant leases as operators and landlords navigate the economic effects of the pandemic.
"To get to a point, in 12 months, where we're now rolling out hundreds of millions of vaccines, we've truly lived a miracle in what modern science was able to accomplish," ThinkFoodGroup (TFG) President Sam Bakhshandehpour shared during a recent virtual event. He shares CEO responsibilities with Chef José Andrés and Rob Wilder and marveled that the restaurant group still stands despite a tumultuous 12 months. "To sit at the helm of a business that has revenue cut 90% and still be functioning is a small miracle in itself," Sam says. He credits much of that to what business insiders termed "pandemic pivots," which included adding new revenue streams (like paella take-out!) and reevaluating TFG's core costs.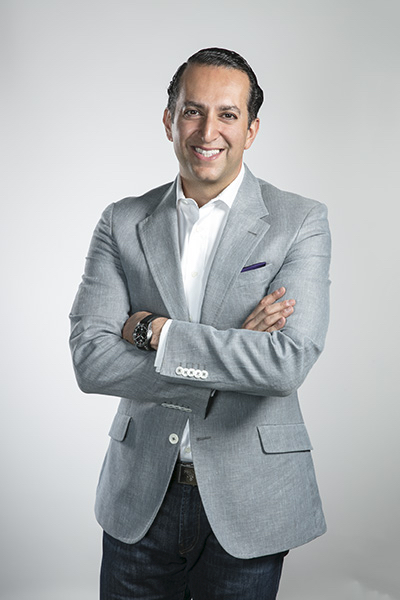 According to Sam, recovery is near. He has witnessed signs of change and says, "I'm seeing this in Miami to Vegas, where they are off the charts with their recovery, to when I was in New York a few weeks ago and saw people dining outdoors. Life is coming back." With sunnier days ahead, Sam shared his thoughts for one of the biggest line items that can make or break a restaurant before, during or after a pandemic: lease negotiations.
Here are Sam's key takeaways that restaurateurs and operators should consider when securing a new lease with a landlord in a post-pandemic environment:
1. The power has shifted to your side.
"Leverage is now with the restaurateur, the operator, and not with the landlord," Sam says. "Despite what the landlord may tell you, they need quality operators that bring something authentic and differentiated to the market, and that drives traffic to their properties."
As Sam explains, landlords desire restaurant tenants that attract not solely foot traffic but added value. "Landlords care about, clearly, rent and concepts that add sizzle to their properties," Sam emphasizes. "Rent can be defined as the room rate at a hotel, it can be defined as rent in a shopping center or a mall, it can be rent by them pushing their condo sales pricing or apartment pricing."
2. Restaurants are the heart and soul of real estate.
"I've learned this over 25 years — restaurants are the heart of the property, and the property is the body," Sam says. "We pump blood through the system, so landlords need restaurants. For the right concepts, they are able to re-tenant around us and push the rents and drive traffic to their malls, to their hotels or whatever it may be."
3. There are fewer competitors for leases.
"Unlike the past few years, where there were so many restaurateurs, there was so much competition ... and the economy was on fire, [landlords] knew they could replace one restaurant with another and not miss a beat," Sam says. "Someone else would step in and pay their astronomical rents and [the landlords] pushed it even further." That has ceased. As Sam says, "The music stopped. The pendulum has swung to the other side."
4. Know your ramp-up period. Period!
"Be honest with yourself about the ramp period," Sam says of the time it takes to prepare for an increase in demand, whether with staffing, training, marketing or testing. This can refer to the approach of increased capacity in dining rooms, diners returning to restaurants, and the spring and summer rush. "The last thing a landlord wants to do is have a failed concept because they didn't give them enough runway to ramp." When budgeting, Sam advises maintaining a contingency to fund losses during the ramp phase. "Have enough funding for pre-opening the right way and make sure you push your landlord and say, I need a 9- to 12-month window to ramp." Sam advises restaurateurs ask for free rent during this time period and percentage rent to give solid runway for the first two years.
5. Incentivize with improvements.
"The other negotiation is making sure they put very healthy packages of tenant allowances (TA) or tenant improvement (TI) dollars, depending on the condition of the space," he says. These enable the tenant to make planned improvements. Sam recommends making sure that the landlord knows you're willing to do your part and understands it is an investment into increasing rent overall. "Landlords investing in healthy TI and TA packages are investing in their own future, that's the pitch."
6. Anticipate change.
"Be realistic knowing that things don't always work out," Sam advises. In real estate terms, that means the building trades, the owners sell or a change of control happens. "Reward yourself with your termination language. It's like a prenup, relationships sometimes don't work out. It may be the owner sells the building and you get a new, nasty landlord." His advice is to include a termination clause that provides a termination agreement: a payment that you as the tenant can then use to relaunch and move elsewhere. "Just know that though your agreement is with one landlord, this might not be the landlord later if they end up selling the building."
Learn more about business skills for hospitality careers in Restaurant & Culinary Management.