The Ultimate Course in Pickling at ICE
John Rooney, sportscaster and master of catchphrases once said, "The quickest way to become an old dog is to stop learning new tricks." For so many cooks and chefs, that mantra rings true as we progress in our careers and strive to gain more culinary know-how. That's why ICE established the Advanced Culinary Center — a series of continuing education classes to enable culinary professionals and aficionados to pick up new tricks in the kitchen. We've got a few exciting classes in store, beginning with a chance to learn pickling and fermenting from one of the most successful and innovative pickle packers in the country.
On October 3rd, Shamus Jones, founder and "executive briner" at Brooklyn Brine, will be at ICE to dive deep into the vats of vinegar with students in his one-day workshop, The Modern Pickle: Preservation Techniques with Shamus Jones. Shamus will guide the class through the process of making all varieties of pickles, from brined to fermented to "quick."
Students will also develop new and unexpected flavors on the spot, using herbs freshly picked from ICE's hydroponic garden. The course will also cover processes for proper canning of pickles and the science behind it all. Attend this class and you will take away the foundational knowledge and techniques needed to produce pickles and incorporate them into your culinary repertoire.
This class is open to professional and aspiring chefs, food professionals, entrepreneurs, bloggers and anyone interested in discovering more about specialty food products. Shamus will also share the story of how he built his career and company from the ground up. Not only will you make pickles, you'll also have the chance ask Shamus all of your questions about how to make it in the handmade, artisanal food business.
In advance of this highly anticipated class, we sat down with Shamus to ask him a few questions about his personal history with pickling.
Did you grow up loving/eating pickles?
Growing up I suppose I enjoyed pickles as much as the next person, but my story isn't of canning alongside my grandmother. It's more a story of "the trials and tribulations of raising a picky eater." I stopped eating meat at the age of 10—what normal kid does that?
What inspired you to get into the pickling business?
I'm an only child raised by a single mother who was adamant about cooking every meal, avoiding junk food at all costs and keeping my precious eyes blinded from the horrible machine known as McDonalds. My mother instilled in me a strong DIY work ethic and a palate that rejected chemical commodity crap, both of which led me to my love of pickling. My career in food started when I was living in Seattle in my late teens—I went from restaurant dishwasher to climbing the ranks in the stations and ultimately becoming a chef through hard work and passion. When I moved back to my native New York in my mid-twenties and was working as a chef, I started going crazy with writing pickle-centric menus. I felt the category was overlooked and there was so much I could do by preserving seasonal and micro-seasonal produce.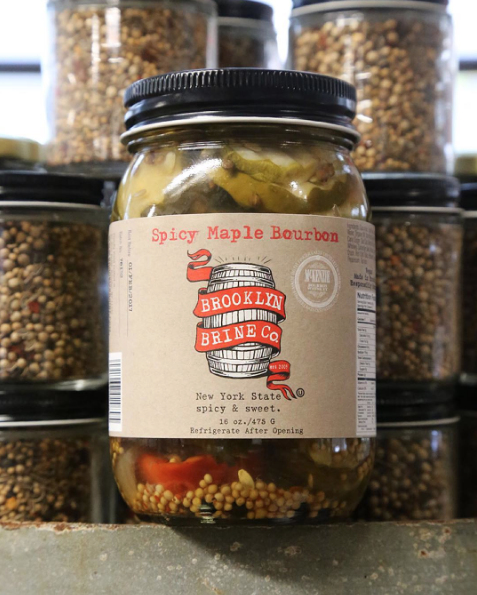 What's the craziest thing you ever pickled?
We've pickled every fruit and vegetable known to man. The craziest was probably lacto-fermenting baby black radishes from Guy Jones' Blooming Hill Farm in bourbon barrels from Finger Lakes Distilling. I don't have any children, but the smell was worse than how I imagine dirty baby diapers smell. That said, the radishes tasted great.
Any current/upcoming projects you're particularly excited about?
We are incredibly excited to be launching a line of brine-infused condiments, each with their own unique twist. Our Better Classic Ketchup is made by a "low and slow" process of cooking down whole peeled tomatoes and blending them with fresh dill and our NYC Deli Style brine.
Our Maple Bourbon Mustard and Maple Bourbon Relish are made with our MBB brine, organic Grade B maple syrup from Cooperstown, NY, and McKenzie Bourbon from Finger Lakes Distilling.
Our newest pickle is the Barrel Cured Garlic Dill, made using cabernet barrels from an upstate winery. The notes from the oak and wine that aged in the barrel are next level and allow us to sneak some weird flavors into what the consumer will expect to be a straightforward pickle.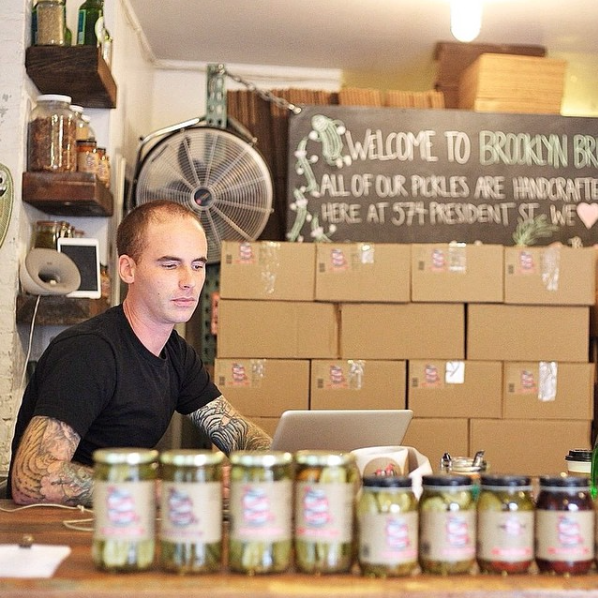 Advice for anyone starting a food manufacturing business?
I have probably too much advice for an aspiring food manufacturer, but I will try to employ some brevity. Find your passion. I've been doing this for 7.5 years and if I didn't love pickles and the process as much as I do, I would not have had the stamina to ride out this journey.
I would love to carve out a portion of our workshop and dedicate it to aspiring food manufacturers, as I've seen and done it all. Another piece of advice: consider what the consumer will take home, in terms of sight, smell and taste. The best tasting item we've done fell flat on the market. It was Ras El Hanout Eggplant. I would start by toasting and grinding my own spice blend with upwards of 17 different spices. Then I would soak and drain the eggplant overnight. I would even preserve my own Meyer lemons for months.
All of this went into making the pickles. I didn't think about scaling it or educating the market on what to do with it. We sold 20 cases to Murray's Cheese—it was the best tasting pickle they had ever had. Two months later we found ourselves having to take back all 20 cases, as the preciousness of the recipe went over buyers' heads and no one could make heads or tails of what to do with this pickle.
Over the years we've found a healthy balance of getting weird with pickles, but also keeping in mind what sounds palatable and what people will do with the pickled item at home.
Interested in studying at ICE's Advanced Culinary Center with Shamus? Click here to register for his October 3rd class!