Asian Cuisines and Modern Plating in Mod 3
Behind the scenes of Culinary Arts classes with wok cooking, sushi rolling and plating practice.
Feedfeed Food Editor Sara Tane is sharing her experiences in weeknight classes in the Culinary Arts program at our New York campus. 
The biggest takeaway from this past chapter of school is that I've been stir-frying incorrectly my entire life. Good to know! Life-shattering epiphanies aside, I think it's pretty safe to say that the Asian cuisine classes were some of my favorites of the program thus far.
Wok cooking was nothing short of an absolute thrill, and the flavors and dishes that we created in these classes were next level. My only complaint about these lessons is that there weren't more — I still have so much to learn. I guess this means that I'll be planning a trip to the Eastern Hemisphere once school is over.
From spice mixes to chutneys to pastes to clarified oils, there were so many intricate components to each dish, making everything a true labor of love. Going into these classes, I was mostly unfamiliar with how these dishes come together. I am very lucky to work with Rachel Gurjar, our test kitchen manager at Feedfeed. She blesses the team with homemade curries for lunch from time to time, so I can confidently say that I know a poppin' curry when I eat one. Every time she makes one, I always ask, "How'd you make this?" Most times, she just looks at me and exhales deeply. I now know why: So! Many! Ingredients! Asking her to summarize how she made that curry is like asking someone to summarize everything that happens in a season of "The Real Housewives of New York City" in a sentence: simply impossible!
This was my first go-round with wok cooking, and let me just say that I had the time of my life. One of my favorite dishes that we made is a red Thai coconut curry. The aromatics in this dish definitely cleared my sinuses but in the best way possible. Another one of the dishes that ranks pretty high is the kung pao chicken. Both wok-centric recipes employed a technique called "velveting," which was completely new to me. Basically, the chicken pieces are coated in cornstarch and egg whites and then deep-fried in oil at a low temperature. If you've ever wondered why the chicken that you get in your go-to Chinese takeout order is exceptionally moist and tender, this is probably why! Goodbye, dried-out chicken stir-fries!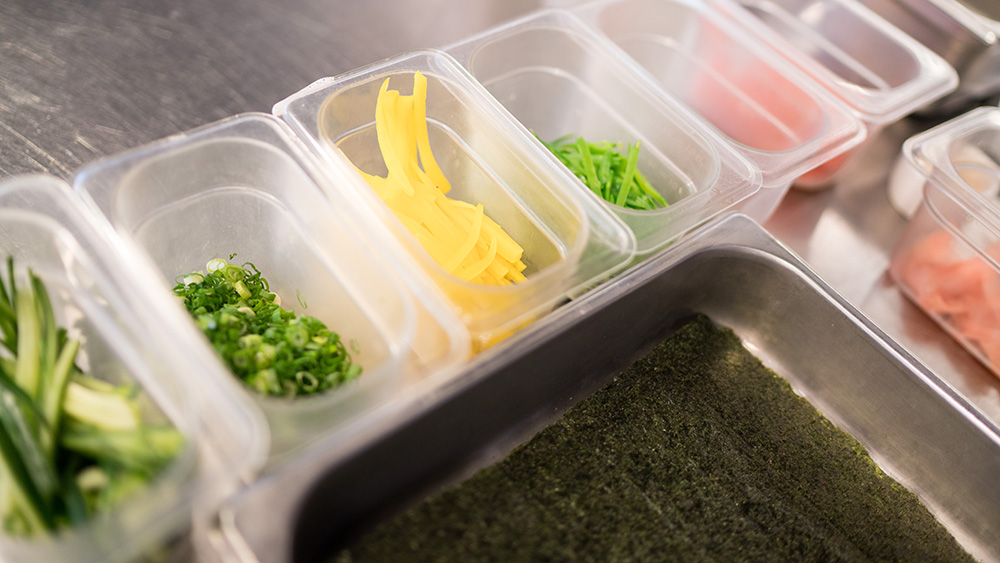 Another perk of our Asian cuisine studies was sushi day! I've never made sushi before, and this class honestly felt like arts and crafts. We learned the way to perfectly cook, fluff and season sushi rice, and then everyone got to rolling. I cannot stress enough how much fun it is to roll sushi. In fact, my next birthday party might be a sushi-making party. You're all invited. Sushi day was our last day of Asian cuisines, and frankly, I was really sad to move on.
Before we finished up Module 3, we had a couple of classes on modern plating. Admittedly, these classes were not my favorite. Plating dishes really is an art and a balance of ingredients. There isn't a clear "right" or "wrong." You want to consider colors, flavors, textures, portion sizes and dishware, but ultimately, there are plenty of sufficient ways to display your food on a dish. I am far from a perfectionist, and truthfully, I don't really have much interest in hunching over a plate, drawing out swooshes of purée, delicately placing dollops of sauce across the plate or arranging microgreens in a specific shape. Fine dining is clearly not in my career trajectory, and the world is a much better place because of that, TBH. I will say that these lessons illuminated which students in my class are destined for fine-dining greatness. Some of the plates that my classmates created were true masterpieces (we're talking tweezers and everything!), and I hope that one day when they open their fancy white-tablecloth restaurants, they'll let me come try their food. Don't forget about me, guys!
The practical exam for Module 3 was also slightly different than our last two practical exams in the sense that we had some liberties with what we decided to present to our chef. We were required to serve a supremed chicken breast, a hot starch and a hot veggie dish. I went for sautéed green beans and gnocchi. Not going to lie, I was pretty pleased with how everything came out. I don't have to pack my knives and go ... yet.
Next up is PASTRY, and this sweet tooth of mine is ready for it all!
Trace Sara's journey back through Module 1 and Module 2 and start your culinary career path at ICE.