Inside The French Laundry Kitchen
ICE alum Matthew Leung (Culinary, '19) shares his experience as chef de partie at Thomas Keller's iconic restaurant.
Matthew Leung (Culinary, '19) was the first student at our Los Angeles campus to secure an externship at The French Laundry, where he's taking us behind the scenes of Thomas Keller's world of fine dining. Here's what it is like to work at a three-Michelin-starred restaurant the first year after culinary school.
First, what was your experience at ICE like?
My experience at ICE was great. I expected to receive at least two benefits from an education at ICE: first, teaching that would prepare me to be a professional; second, exposure to a network that would open doors that I otherwise wouldn't be able to open myself. ICE fulfilled these expectations for me and more. Having an opportunity to work at The French Laundry would have taken years without ICE. However, due to the reputation and network that ICE has developed, career services was able to pave the way for me to be an extern at The French Laundry, the restaurant I now work in full time.
Tell us how you landed your externship there – what did you have to do?
Usually people get asked to stage, but for whatever reason, I just sent my cover letter and resume, and I was offered the externship. I never needed to stage, and that was kind of crazy.
That seems very unusual! There must have been something in your cover letter that grabbed their attention.
Before writing the cover letter, I read "The French Laundry Cookbook" to understand the restaurant's philosophy as well as Chef Keller. I saw there was a lot of focus on integrity, on pursuing the right way to do things with every opportunity. Secondly, I recognized a focus fueled by curiosity with the desire to learn and grow and expand with attention to detail. Those were two things I tried to focus on as well as including unique bits about my own story. I weaved those things together and those two core values that resonated in me. Ultimately, it has been a great match.
Once you were offered the position, what was the next step?
I got the email from the sous chef that was responsible for personnel at the time. I made my first trip up [to Napa Valley from LA] right before the externship started, and I moved into a little Airbnb. I got a kitchen tour the Saturday before [my shifts started]. It was definitely a shock-and-awe experience, but it was good.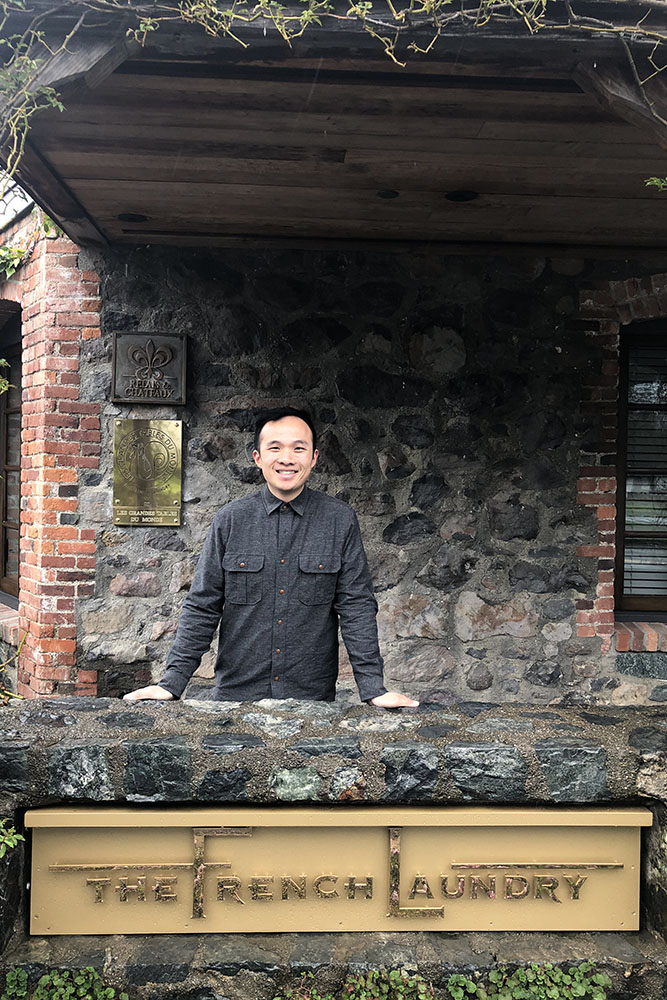 Can you give us a fly-on-the-wall perspective of your externship?
Basically, there's a pretty clear hierarchy in the kitchen, and I was starting as a commis. That meant I was responsible for certain projects to help mise en place for service that day. I was given a lot of basic tasks – juicing certain fruits or vegetables so that the line cooks or chefs de partie could make sauces or soups from them. I was also tasked with peeling potatoes for pommes purees. On top of that, we had to prepare staff meal, supply aprons and towels, and restock paper towels, C folds, gloves and basic necessities to function. Overall, our goal was to make the lives of everyone else in the kitchen easier.
How many commis were there?
There were about five other commis. There's a handful that work the morning shift and everyone has their own projects. There are different stations within the commis level. The top level is the chip station because Chef Keller's signature canape is the chive chip with truffle egg custard. Making the chive chip is the main responsibility and that's what the station is named after. On top of that, they make other things like pastas or crackers for amuse bouche. The second station is the cornet station; they are responsible for cornet tuile for the entire week. The third station was stocks, where they would prepare however much stock they needed for the week.
You fulfilled your externship hours and were offered the opportunity to stay, what was that like?
As it's happening, it's all hard to describe. You feel so many different things at the same time. I was obviously relieved and happy to be back, and I knew there is so much for me to learn. I already had a plan or trajectory on what the timeline was going to look like for me. I had an understanding of who was there longer, who had better skills, so I preconceived how long it would take for me to move up and pursue my goals. But I learned pretty quickly that those things are not in my control, and before I knew it, I was moved up to the chip station, which was the top commis spot, and then after three weeks of training and before I could fly solo on chip station, I got moved up to the line. It was a roller coaster and my timeline was shot. I thought I would be there for at least six months, that seemed like a reasonable goal. As it often happens in the restaurant business, things never work in a linear fashion. We're all just trying to grow together and move together and for lack of a better word, survive together.
How many chips were you making a day?
For lunch service, from my limited experience, we were averaging 60 covers. Dinner they average more, about 100-110. Plus, it was the 25th anniversary this year, so there was a lot of planning and preparation during the month of June. Between 600 and 800 guests attended that celebration; the entire property was turned into a giant banquet. Guests could walk in and out as they pleased, and wherever they walked there was food being served. It was a very, very memorable experience.
What is your day-to-day like now?
My current position is chef de partie. I'm working the garde manger post, which is split into two stations: There's the salad garde manger and the cheese station. I am working the cheese station. Basically, the dishes that I serve are the initial amuse bouche — the cornet and the Ritz cracker — and I serve the bread course, which happens after the fish course. Then I serve the cheese course, which is right after the meat course and right before dessert. It's busy, but it's fun!
What are your hours like?
I'm on the a.m. chef de partie team, which means I work Friday to Tuesday. We work the lunch service Friday through Sunday, dinner service Monday and Tuesday. I'm off Wednesday and Thursday. Now that I'm a chef de partie, the hours are more intense, in terms of what I do in 12 hours, but the schedule is a little bit more consistent.
We clock in at 6 a.m. from Friday to Sunday, lunch starts at 11 a.m., and the last order comes in around 12:30 p.m. or 1 p.m. Then I continue plating until about 2 or 2:30 p.m. From 6-11 a.m., we do our mise en place, prepare for staff meal and set up our stations. From 11 a.m.-2:30 p.m., it is service, and then we have to breakdown and meet together with the sous chef to plan the next day's menu.
The menu changes every day, and no two ingredients can be the same for different dishes. If one component has black truffle puree, another dish cannot have black truffle.
How is this role helping you grow as a chef?
Working the line is helping me understand how to keep my mind organized, it's not something that I would say is my biggest strength. It's something I'm working on. Given the nature of my station, I serve the very first thing and the very last savory thing. There are moments in service where I have to plate all three at the same time, and I'm in the middle of cleaning. During service, you need to be able to multi task and think clearly. That's where cleanliness is really important, and I would say there's room for improvement, but that's something that I'm learning.
You're a career changer: How has it been working in the kitchen?
It's very different than being in the banking industry where I was a year ago. It's kind of crazy how tired you get at the end of the day. It's really rewarding to be able to put my head on the pillow and know that I put in a solid day's work.
Pursue your own path to fine dining with ICE's Culinary Arts program.