ICE Alum Opens a Bakery in Bogotá, Colombia
Catalina Patiño (Culinary/Management, '19) debuts a brick and mortar for her desserts made with love.
One Culinary Arts grad interviews another on opening a bakery with her culinary management education, Instagram marketing and more.
A sweet snack will always be worthwhile and is the master key to the heart. Because love is an ingredient.
These are words found on the first pages of the Gacho brand book under the title: Firm Belief. Catalina Patiño sent me the 47-page online file at the end of our hour-long Zoom chat in the hopes that I would get a better understanding of the rebranding her company Gacho has gone through in preparation to open a physical bakery in Bogotá, Colombia.
The bakery's slogan is cocina con amor or "a kitchen filled with love." Catalina wants her decadent sweets to go beyond just the sum of their parts, she wants them to be the catalyst for special moments of sharing with friends and family.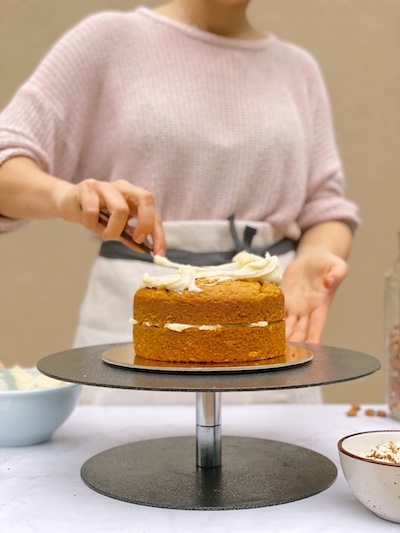 She credits her longing for creating moments around food to her Lebanese background, explaining that in Lebanon, "the way you demonstrate love is through food" and a culture of hosting. Growing up in Bogotá, her Lebanese grandmother was the source of inspiration for this type of natural hospitality so it is no surprise that by the time Catalina was 14, she was already cooking and baking cupcakes and birthday cakes.
Her love for baking continued on into her university years when she studied industrial design and project management. I asked what project management entailed, and she held up a pen to the screen and explained that it is essentially about strategizing a plan to get that pen sold. Since she is now in the business of selling food, her degree has come in handy. Catalina has used her knowledge of design to help her choose things like plates and silverware for the bakery, and more importantly, understands how it all ties into the customer experience.
While in school, she would get orders for cakes from friends and family. Without formal pastry training, she would wing it and experiment her way to delicious cakes — delicious enough that eventually, an order came from someone who wasn't a friend or family. Catalina figured out how to cost her cake and bought a cake box and plate. More and more orders started to come in so she came up with a logo and decided to start selling cakes full-time. She wrote her thesis on food design, finished school and was set on her journey to a career in the food industry.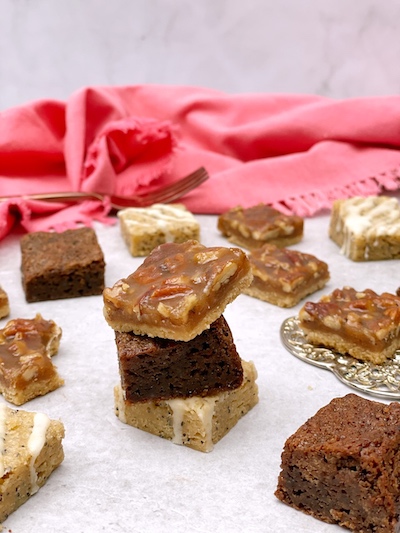 Catalina's next step was to learn the science of baking because experimenting was not always successful. After four months of pastry school in Vancouver, she went back to Colombia and started her baking business with a focus on cakes for events, weddings, even for a well-known Bogotá museum gala. "I was selling cakes for three-and-a-half years, I wanted to grow but I wasn't sure how."
That desire led her to research the Restaurant & Culinary Management course at the Institute of Culinary Education. With a vision for Gacho to have sister restaurants in Bogotá, she decided to also enroll in the Culinary Arts program, keen to add culinary fundamentals to her repertoire. Catalina chose New York City because "you can discover a new restaurant every day and never finish."
Instructors at ICE became her mentors and close friends. They gave her valuable advice on how to land an externship at a New York City restaurant. After trailing at Atera, Blue Hill NYC, Le Bernardin, Casa Mono and Olmsted, she chose Atera. One of the first things the chef told her was that they didn't sponsor work visas, which meant she couldn't continue to work there after completing her externship hours. But after four months of determination and professionalism, the chef offered to sponsor Catalina's work visa. She knew it would be hard but rewarding work so she accepted the offer, went back to Colombia and began to process her visa.
Before the process was complete, the pandemic hit. Catalina took it as an opportunity to hone her skills, experiment at home and even start offering online cooking classes. "It was an amazing excuse to share, form bonds and make someone happy," she says. The slowed pace of the world allowed her to dive deep into her love of baking and she came to the conclusion that baking for someone was the best gift she could give.
Catalina's focus turned to opening Gacho's physical location. Through connections in Bogotá, she found an old house with an available kitchen space. It was time to rebrand, capturing an artisanal feel, feeding the heart, using love as an ingredient, quality above all, not needing a special occasion to treat oneself. These are all the phrases she used to describe the refreshed feel of her already beloved bakery and the new menu reflects this revival.
"I decided to start with a simple menu, three cookie flavors, three cakes and three bars," she said.
Looking through Gacho's Instagram @gacho_cocinaconamor will make you want to book a flight to Bogotá just to be able to taste her perfectly moist carrot cake, chewy-yet-crunchy pecan pie bars and everything in between. After following Gacho on Instagram for a while, it was exciting to see a post of a perfectly frosted carrot cake with the caption: "Almost! Tomorrow we turn on our ovens for you all!"
"My opening date was in the middle of another COVID-19 peak, which meant very strict confinement and a national strike. This strike not only meant not having enough movement but the country mourning," she said of the April 27 soft opening. With Colombia's hardships, Catalina found it hard to promote a business opening, but she uses Instagram posts to promote that a sweet treat meant for sharing can provide comfort in difficult times.
As for the process of the physical construction of a bakery in an old house, "there are so many things that take two or three times as much time as you think," she explained. "There were a lot of setbacks, like not having enough electricity to operate with the equipment we needed or not being able to fit the oven through the door, or the water heater exploding the day we finally got our electricity."
She learned in real life what the culinary management program taught her about the hardships of restaurant construction, but the setbacks gave Catalina time to work on and refine the details of her business. "I've always thought that attention to detail is what really differentiates one [food] business from another," she said.
Since opening, Catalina has been reflecting and thinking a lot about two things: how grateful she is that her parents encouraged her to work on what made her happy and how they were very patient and let her operate from home for many years. The other thing she has reflected on is what working in New York City teaches you. She feels that she managed to design a space that is practical, organized and appealing thanks to what she learned working in some of the best kitchens in the world.
Develop your food concept with a dual diploma in Culinary or Pastry Arts plus Restaurant & Culinary Management at ICE.