From Culinary Arts Classes to Working In a Kitchen
Take your passion for food to the next level.
If you've always been the person who wows at potlucks, goes off script when following a recipe or can't stop watching cooking competitions on TV, a career in the kitchen might be for you, and culinary school can help get you there.
Career classes at ICE teach fundamentals and advanced skills in professionally-designed kitchens, so training at culinary school could be just the thing to sharpen your skill set — and your knives.
What's Cooking in Culinary Arts Classes?
The Culinary Arts program at ICE covers a wide range of topics and explores cuisines from around the world, guiding students from fundamentals like knife skills and food safety to more advanced techniques like sous vide cooking and making charcuterie.
"The most special thing about ICE is the energy of chefs and students," says ICE Vice President of Education Chef Richard Simpson. "There is nothing like being in an environment where everyone absolutely loves what they're doing."
Take the first step in your career journey today.
What Are the Fundamentals of Cooking?
If you feel like this is a lot on your plate, we'll take it one bite at a time, as learning the fundamentals of cooking is a must before moving on. While you may know your way around a home kitchen, culinary school training is designed to help you successfully work in a professional setting.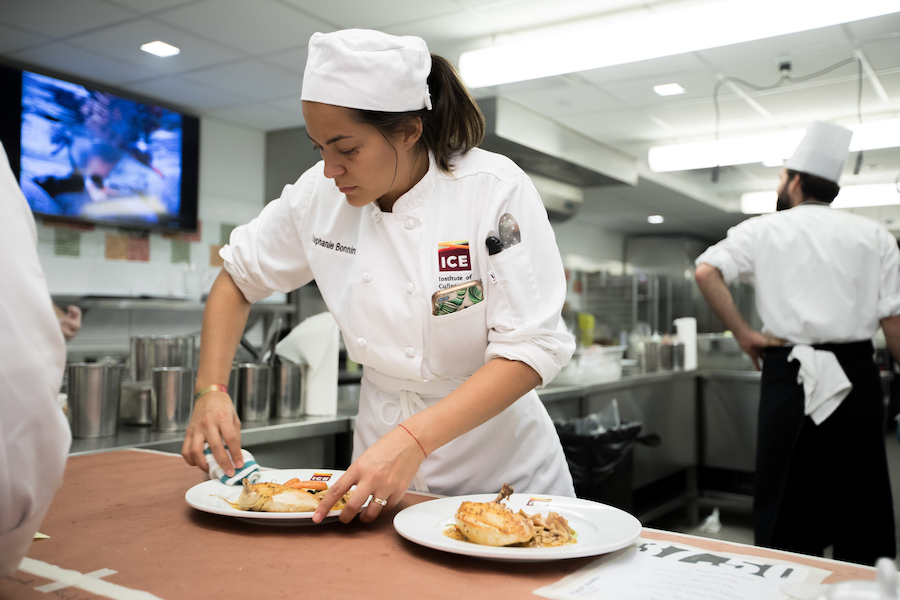 Culinary arts classes cover a wide range of essential cooking fundamentals. From teaching the basics — including knife skills and ingredient pairing — to cooking cuisines from around the world, classes in ICE's professionally-equipped kitchens guide students through myriad techniques: 
Knife skills: understanding the different types of knives; mincing, slicing and dicing techniques; and how to properly hold and sharpen knives
Meat, fish and poultry fabrication
Food safety and sanitation
Creating sauces and stocks
Product identification and palate development
Culinary math
But another question remains: Where to go from there?
Advanced Skills
Now that you've done your mise en place, it's time to apply your skills to more advanced techniques. ICE's Culinary Arts program covers over 600 hours of training that dive into the specifics of restaurant cooking.
Students have the opportunity to cook in a professional hearth oven or tandoor in ICE's Culinary Technology Lab. They'll practice delicate techniques like making emulsified sauces and more rigorous challenges like plating and presenting entrées that require precise timing and attention to detail.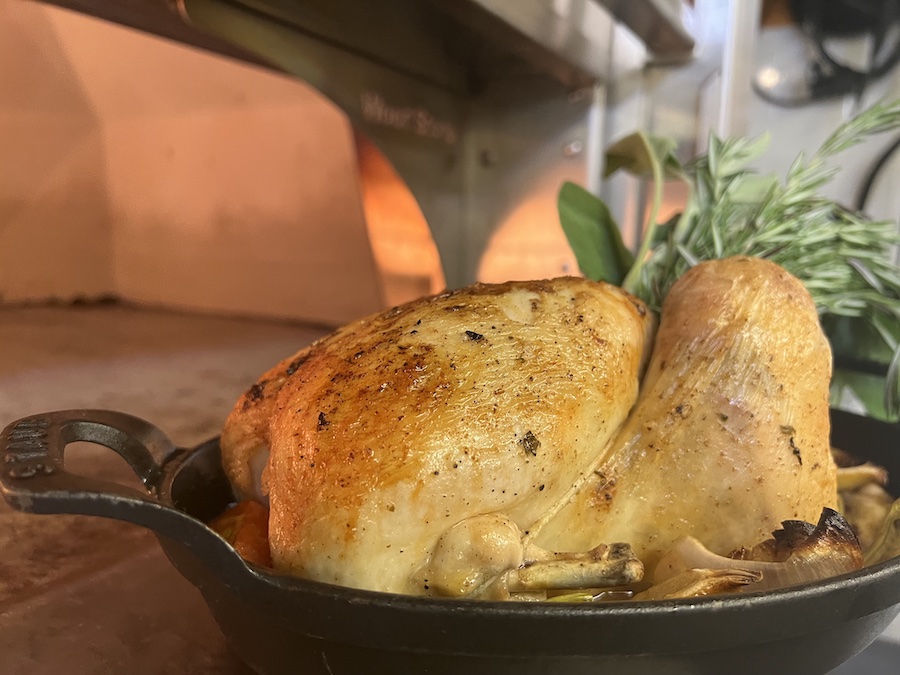 Plus, ICE's Culinary Arts program covers the essentials of pastry and baking. And for anyone interested in the savory side of the kitchen but is looking to focus on plant-based cooking or wellness and sustainability, ICE's Health-Supportive Culinary Arts program teaches a vegetable-forward curriculum.
Culinary arts classes wrap up with market basket days, where students take everything they've studied and work to prepare a unique menu from seasonal ingredients to showcase their newfound plating, timing, creativity and consistency.
The Next Step
You've completed your classwork and you're asking yourself, "What's next?" It's time to complete your externship.
These paid or unpaid experiences are set up with the assistance of our Career Services advisors, and they allow students to apply what they studied in a hands-on setting. They also provide networking opportunities that can help in their career growth.  
Externships aren't the same for every student. They're meant to fit each individual's goals; some students may want to explore working in fine dining, while others may want to try catering or recipe development
Cooking With Confidence
Following along with recipes on TV can be fun, but hands-on training with expert chefs creates a pathway toward improving culinary skills and gaining confidence in the kitchen, especially for anyone looking to pursue a profession in the food industry.
Whether your dream is to lead a team at a Michelin-starred restaurant or become a personal chef, having a culinary school diploma and finding experienced mentors through culinary arts classes can help steer your career in the right direction.
Ready for a real taste? Let's do this.
Enroll in Culinary Arts Classes at ICE
It takes only eight to 12 months to earn a Culinary Arts diploma from ICE. Courses are offered in the mornings, afternoons, evenings and weekends to provide you with flexibility as you pursue your culinary dreams. Plus, these culinary arts classes are located in two of America's food capitals: New York City and Los Angeles.
Are you interested in earning a culinary arts associate's degree that pairs culinary training with studying the business of restaurants? Our unique Culinary Arts & Management Associate program offers this hybrid curriculum, and it will only take 14 months to complete at our Los Angeles campus.