Chef Marc Johnson Follows His Instincts Around the World
The ICE alum and Majordōmo chef de cuisine talks about seizing pivotal opportunities and the importance of kitchen culture.
Though he started working in restaurants at an early age, Marc Johnson (Culinary, '04) never imagined his future in the kitchen. Listening to his gut and making a point to be selective with his jobs led him to a position creating desirable culture and inventive food for a large audience.
"My family was always into food," Chef Marc says. "My mom cooked every single day. She would always try new recipes and had a lot of cookbooks. We always had new dishes introduced to us. In the summertime, my mom would make my brother and me cook one meal per week while she was working."
When Chef Marc was in high school, he got a job at a local restaurant on a cliff overlooking the Pacific Ocean. He worked there for two years before a family friend got him an office job.
"I never really thought I would go back to restaurants. I thought that was it, that I would always be doing some kind of office-y job since I was really into business at the time," Chef Marc says.
Then he went to study English literature and legal studies at UC Berkeley and juggled a job on campus with two front-of-house restaurant jobs.
"I was running and bussing and waiting tables, but I always found myself back in the kitchen," Chef Marc says. "I was always asking the chefs questions about the food and how they were making things."
Coincidentally, both of the restaurants Marc was working at announced they were going to close. One of the two was an Italian restaurant owned by Alice Waters' brother-in-law, who kindly offered to set Marc up with a backwaiter gig at Chez Panisse. He found a Japanese restaurant nearby to replace his other restaurant job.
As he was balancing three jobs and schoolwork, he was applying to full-time business positions for after graduation.
"I realized I wasn't really sure I wanted to do this," Chef Marc says. "So I saved up money from working three jobs and traveled for six months through Asia after graduation. Then my girlfriend at the time got into law school at NYU, so I decided to move to New York and try to cook."
Marc showed up in New York without any connections in the restaurant world. He staged at Gramercy Tavern for two weeks, but couldn't find a job he was passionate about. He worked at a "not so great" Italian place in the Theatre District and then at a "really bad" breakfast and lunch spot on the Lower East Side.
"After working at Chez Panisse, I knew that was the kind of restaurant I wanted to be in. I thought that maybe I needed to go to culinary school to get in at these types of restaurants," Chef Marc says.
Since he spent four years in college already, he didn't want to go to culinary school for a long time and chose the Institute of Culinary Education for its accelerated six-month program.
"When I went to ICE, I didn't really know what to expect because I didn't research it a lot. I just wanted to do it and then get to working," Chef Marc says. "I had Chef Ted [Siegel], a very serious chef-instructor who was almost like an army sergeant, which I really liked. He wasn't trying to make it all light and easy. He was realistic and result-driven, and I really appreciated that. The classes were recipe and technique-focused, and I think it's important to get that practice in a slower environment, because in a restaurant kitchen you're moving so quickly and don't have time to think about it."
One of the guest lectures offered at the school was by celebrated French chef Michel Michaud. Extremely compelled by his story, Chef Marc went up to Chef Michel after the talk and asked if there was a Chez Panisse-equivalent in New York City. His answer was Blue Hill New York City.
So Marc went to trail there, where Juan Cuevas was the chef de cuisine.
"I just really liked him. It was a super small kitchen, really tight-knit team. Chef Juan was a very good teacher. He was cool, calm, collected and explained everything. It felt like a more stylized, New York-ish Chez Panisse where everything was from the farmers market, and I really connected with that."
When Chef Marc finished classes at ICE in 2004, he went on to complete all of his externship hours at Blue Hill New York City in just a month, and then Executive Chef and Co-Owner Dan Barber requested that he begin as a line cook at the newly opened Blue Hill Stone Barns.
"It was fun because I had no extracurricular stuff at that time. I had no girlfriend or anything to think about except cooking, so I was very focused. We would finish work and sharpen our knives and read cookbooks. The simplicity and focus of it was great, but it was also pretty hard on the body," Chef Marc says.
Feeling a little burned out, he left Blue Hill Stone Barns after a year and spent the summer as a personal chef in the Hamptons, then on a yacht off the coast of Croatia. When he got back to New York at the end of August, he staged at nearly 10 restaurants throughout the city, gaining more experience and exposure to different environments. Ultimately, Chef Marc still wanted to work at Blue Hill New York City with Chef Juan, who he loved for his hands-on teaching and recruitment of driven, intelligent cooks.
"There was something about that kitchen culture that I really liked in that everybody was serious about cooking and wanted to do their best, but also could talk about politics, books, movies and restaurants," Chef Marc says.
After two years at Blue Hill New York City, Chef Marc and his then-girlfriend, now-wife moved to Shanghai, where he got a job as an executive sous chef at a French restaurant in 2007.
"I went from being a line cook at an ingredient-driven, farm-to-table restaurant in New York to being the head sous chef at a molecular gastronomy restaurant in Shanghai," Chef Marc explains.
Between the long hours and adjusting to living in China and working with international cooks, Chef Marc remembers it as the hardest two years of his life.
In late 2010, he found partners who allowed him to open a restaurant as the head chef. It was a small, seasonal spot that was influenced by his time at Blue Hill but only lasted about a year. Chef Marc realized it was too formal and not warm enough for what people wanted.
"It was sad and super painful, but I learned a lot. You can't just cook what's in your head, you have to cook what the consumer wants and adjust," Chef Marc says.
When his restaurant didn't work out, he turned to making charcuterie and selling it at the farmers market. People really wanted his product and he enjoyed creating it. Then his wife got a job in Boston, so the couple left China after five years.
Marc staged in about 12 restaurants in Boston, though he ultimately went to work for the first one, an American spot from two Momofuku Ssäm Bar alumni called Strip-T's in Watertown. Then his wife got another new job, this time in Los Angeles.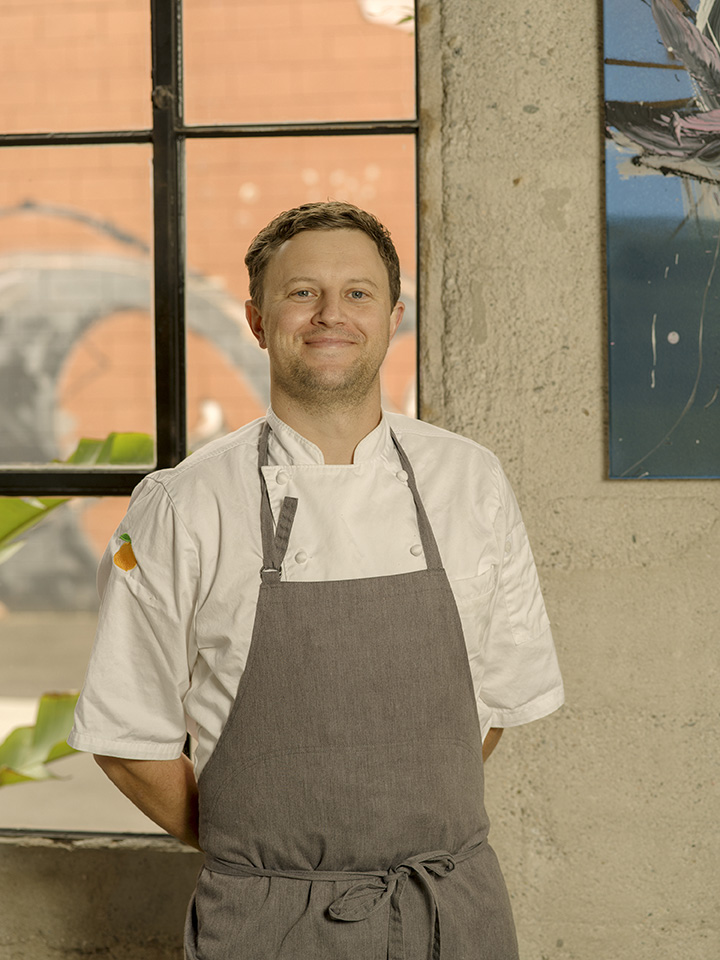 The couple moved to LA in 2015, and Marc took some time off cooking as he oversaw renovations for their house and cared for their daughter. He also met up with his old friend, Chef David Chang, who told Chef Marc he wanted him involved in his forthcoming restaurant that would eventually become Majordōmo.
Marc and his wife then had their second child, and Marc continued chatting and planning with Chef David over the course of two years, as the details for Majordōmo started to emerge. Before the restaurant opening, Chef Marc and his family returned to Shanghai for six months, then spent five months living in Tokyo.
In the fall of 2017, Marc came back to LA and began officially working on Majordōmo as chef de cuisine. The restaurant opened its DTLA doors in January 2018 to acclaim and crowds.
"I never intended to be in a restaurant that did 400 covers. I never intended to sell 50 or 60 of one item," says Chef Marc. "The restaurant I tried to create in Shanghai was small, and I wanted to go to Blue Hill because I wanted to be in a small kitchen. But sometimes you have opportunities to do things that you realize are so important to your career. I saw the importance of having Chez Panisse, Blue Hill New York and Blue Hill Stone Barns on my resume. Those places opened doors that might not have been open. With Majordōmo, I was like, okay this is it. I knew it was going to be crazy, but I believe in Dave and Momofuku."
Chef Marc and the team have had many successes. Last month, Majordōmo was named a finalist for the James Beard Award for Best New Restaurant. Though for Chef Marc, the right restaurant isn't about awards.
"I always staged in so many places because I think it's so important to find the right fit," he says. "I don't just mean finding food you're excited about but also culturally and how you fit in with the team and how the team works together. Majordōmo was the first time that I really didn't pick where I wanted to go, but I was part of that opening team, and I could create that kind of culture. It's challenging, but I try to be friendly yet firm at the same time."
According to Chef Marc, creating the right kitchen culture is equally important to creating innovative food.
"One thing that I love about Dave and the food we make at Majordōmo is a lot of it you've never seen before or it's done in a different way, which keeps it interesting," says Chef Marc. "The more I've matured as a cook, the more I want to create dishes that people haven't seen. I have things I want to learn and do personally as a cook, and I think that I can find those within the cooking walls of Momofuku, so I'm pretty happy where I'm at."
Build your resume for a future in food, starting with the fundamentals in Culinary Arts.