Omotenashi: The Art of Japanese Hospitality
Insights from Chef Zaiyu Hasegawa and General Manager Emi Hasegawa of Tokyo's world-renowned restaurant, Den.
Tokyo's Den restaurant has held two Michelin stars since 2018 and is ranked No. 11 on The World's 50 Best Restaurants list. Notorious for its tough-to-nab reservations, Den is led by Chef Zaiyu Hasegawa, whose menu is a playful expression of the multi-course Japanese meal known as kaiseki. His wife, General Manager Emi Hasegawa, oversees the guest experience — a journey that starts from the moment a diner calls for their coveted reservation.
At a virtual event with ICE students, the Den team shared its notion of omotenashi, the philosophy of Japanese hospitality, which has kept those tables hard to secure even during the pandemic.
"We rarely get asked about omotenashi, the service side of the business, but we really want to talk about how we put our heart into serving our guest," Emi said on Zoom from Tokyo. The constant consideration of the guests' needs defines Den, where the goal is for every guest to have a memorable experience. The team follows a few key tenets to ensure that is met: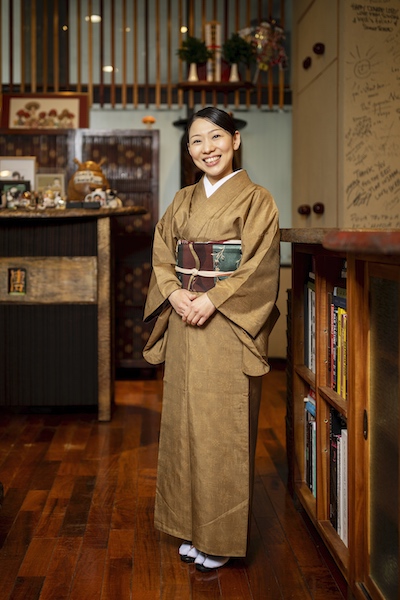 Plan for Each Guest
"We always ask guests where they are from or if they have been to Japan before," Emi says. "We can imagine the flavors the guest might enjoy, or with the idea that they have been to Japan, then we know what they have been exposed to before." With primarily local guests, Den has quite a few regulars and keeps track of such details as a guest's favorite color. "I might wear that color kimono on the day of their visit," Emi says.
Considering all the variables that might please a guest, Emi considers everything from the flowers to the weather. "If it's going to be a rainy day, I might prepare towels for guests to dry off or increase the temperature of the dining room."
"Rather than thinking of the guest as coming to eat with us, we think about inviting them into our home," Emi says. That is reflected in the menu choices. "If a friend likes red wine or another loves meat, I might be sure to make them a steak. It is the same perspective."
Be Flexible
With reservations booking two months in advance, the team starts working on preparations from the first phone call, and when the guests arrive, that plan goes into action. "When they arrive and we finally meet, we need to watch and adjust the plan as we go along," Emi says. That includes things like noting how much of one course someone enjoys and adjusting portions accordingly.
"One of our golden rules is to be flexible. You need to make no assumptions — constantly adjust your imagination when you verify from your observations what you can turn into action."
Work as a Team
"We don't strive to have the most delicious food," Chef Zaiyu says. "Rather, we strive for making sure the experience is wonderful, so we need to work as a team." Given the restaurant's limited capacity and small staff (just four people in the kitchen), each member of the team is critical. "The most important thing needed is the team — the people," Emi adds, explaining they operate like a family with a unified vision. "We need to be aligned in how we think and how we want our customers to feel. If we share the same motivation and the same thinking, then we have good teamwork."
Communication is Key
Like any family, there is a certain closeness. "We run on the philosophy of play hard and work hard," Emi shares. "During staff meal, we sit down and enjoy it together, but when it comes to work, like a mother would teach their children, I want the staff to understand the perspective of the customer." When mistakes happen, Emi wants to learn and understand why. Then, she makes sure the team can improve upon that the next time. She relies on good communication with her staff and thinks it is to her advantage that her husband is the chef. "I have a lot of respect for his cooking," she says, explaining that their communication is easy, open and strong.
Be Authentic
"People often share that they appreciate our hospitality, and it isn't something we manufacture. It is something we do with our hearts." Emi, whose name means "to smile," says she truly enjoys making others happy and advises students entering the hospitality industry to be genuine. "My mother wanted me to make use of my smile, and it is something that comes naturally."
Train for a career in hospitality in Restaurant & Culinary Management or Hospitality & Hotel Management.
*Thanks to Japan House LA for helping put this event on.