Signature Recipes of Empellón with Chef Alex Stupak
ICE was delighted to recently host a cooking demo with one of New York's true culinary phenoms, Chef Alex Stupak. Although only in his early thirties, Chef Stupak already has twenty years of industry experience under his belt. His professional career started in Chicago, where he worked at the award-winning, four-star restaurant Tru. Following his time in Chicago, Stupak went to work at The Federalist in Washington DC, and later, landed at Clio in Boston, where he gained national acclaimed for his talent as a pastry chef.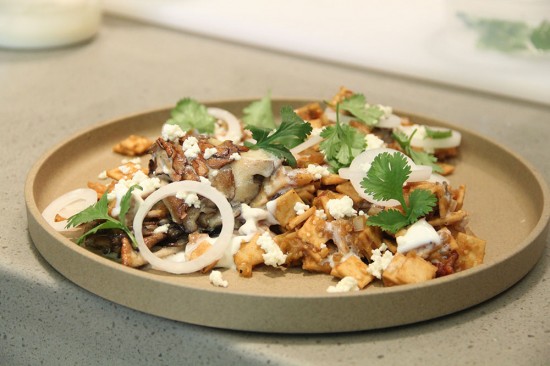 In 2005, Stupak was tapped by Grant Achatz to serve as the Executive Pastry chef of Alinea, widely considered to be the best restaurant in the country. His beautiful and innovative creations naturally lead into his next job as Pastry Chef of wd~50, New York's own experimental kitchen.
Yet in 2010, Stupak surprised his fans and colleagues by leaving the world of high-end pastry to open two of his own restaurants – Empellón Taqueria and Empellón Cocina – to wide acclaim. It obviously seems surprising that a chef with such a strong career in modernist pastry would choose to open a fine dining Mexican restaurant.
However, in doing so, Stupak feels he is filling a gaping hole in the New York food scene. Despite being the "culinary capital" of the US, Mexican food in New York City lags behind that of other major cities, rarely going beyond tacos, guacamole and margaritas. For someone like Stupak, who frequently visits Mexico and loves Mexican cuisine, this is a travesty. The goal of Empellón is to expose New Yorkers to the unique flavors, ingredients and techniques of Mexico and transform their appreciation of this under-appreciated cuisine.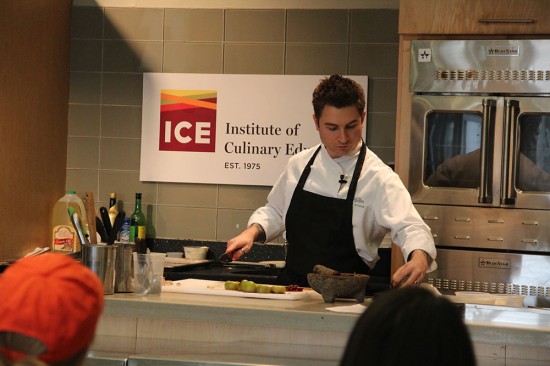 Over the course of many trips to Mexico, Stupak took it upon himself to learn about the central dishes, flavors and techniques of the country's regional cuisines. In the process, he found ways to develop his own renditions of classic Mexican dishes with creativity and flair.
But Stupak is acutely aware that many of his customers have never tasted true Mexican cuisine or may be wary of modernist techniques. That's why, when asked about his creative process, Stupak told ICE students that he either tries to take unusual ingredients and put them in a comforting contest or take familiar ingredients and upgrade them with a new technique.
As an example, Chef Stupak chose to demonstrate chilaquiles with salsa borracha. Chilaquiles are a very common brunch food in Mexico, consisting of fried tortillas briefly simmered with salsa, then usually topped with meat or an egg.
Stupak mixed things up by featuring mushrooms in his version, of which he says there are an astonishing number of varieties in Mexico. He also explained that there are cultural preferences for texture. While American's love their food to be crunchy, Mexicans enjoy when something was initially crunchy but is just beginning to get soggy. In referencing his choice of ingredients, Stupak highlighted the challenge of doing Mexican food in a fine dining setting.
Because Mexican food is still considered to be "ethnic", many diners do not want to pay more than a few dollars for a taco—even if that taco contains the same high quality scallop that would easily garner a high price in French or Italian restaurants. Yet as Stupak passed around the smoky Mezcal and rare chilies that he sources at his restaurant, it became clear that he is working with as fine of ingredients as any of the top chefs in the city.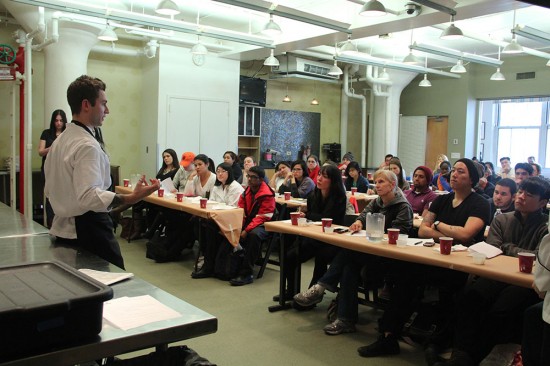 In stark contrast to his simple and rustic main course, Chef Stupak presented a dessert that was much more in line with his modernist background. He explained his philosophy that, in pastry and desserts, appearance matters as much, if not more, than flavors.
Towards this end, he created an interactive and surprising frozen tangerine cylinder filled with a luscious mezcal-infused toffee that oozed onto the plate when the delicate cylinder was broken. As he explained in the demo, Stupak used the modernist hydrocolloid techniques to achieve this surprising effect. As our students enjoyed the complex, elegant Mexican cooking presented by Chef Stupak, it was clear that they were never going to look at tacos, guacamole and margaritas the same way again.
At ICE, we're proud to feature a wide range of cuisines in our curriculum, and we look forward to inviting more innovative chefs into our kitchens, to help inspire our students to look beyond European cuisines and see the value in all cultural foodways.