Meet Chef Eric Mickle
The New Associate Dean of Students at ICE's Los Angeles Campus
A part-time job at Legoland launched this father of four's culinary career, which led him to the Four Seasons Resorts and eventually to a corporate chef role with Gordon Ramsay Restaurants. Today, he is a Culinary Arts chef-instructor and the associate dean of students at ICE's Los Angeles campus.
As a teen, Chef Eric Mickle had no notion of what it meant to be a cook or work in a restaurant until a chance introduction to the world of hospitality. When he was a sophomore in high school, a friend invited him along to fill churros at Legoland in Carlsbad, California. Chef Eric was intrigued and decided to apply for a position at the newly opened amusement park. "They put me in a real restaurant where I was cooking on the line to order," he says. "I really fell in love with [cooking] and being able to control my own destiny, while being a part of a team."
Chef Eric now realizes that while he thought entering the culinary profession was accidental, he had a bit of kitchen curiosity as a kid. "Being an 8-year-old latch key kid, I would take basic stuff like ramen or roast chicken from the grocery store and experiment by adding veggies and making it more than it was."
While in high school he rose up the ranks at Legoland, and one day he escorted his girlfriend to an industry "cattle call" at the Four Seasons Resorts Carlsbad (now a Hyatt property) for moral support. "After waiting 30 minutes, I decided not just to wait but to also apply for a job," Chef Eric says. Knowing it was a reach, he decided to take the chance and throw his hat in the ring for a junior sous chef position. "The chef really liked my gumption and brazenness. He could see I was passionate about the industry and culinary school." The risk paid off a chef who saw something of himself in Chef Eric, brought him on — though not as a junior sous chef.
The lessons Chef Eric learned at the Four Seasons were invaluable.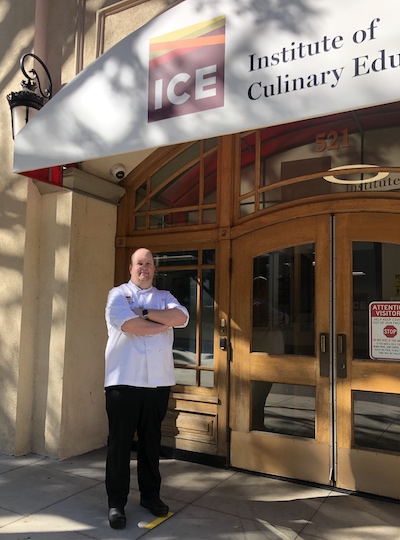 "The attention to detail at the Four Seasons and the customer service were the biggest factors for my career," Chef Eric says. "We did everything for guests, and if we couldn't do it, we would figure it out." The property housed four restaurants: the golf course's steakhouse that offered lunch and dinner, an all-day bistro, a fine-dining Italian restaurant, a residence club with a bistro as well as room service, a lobby lounge and a banquet operation. Chef Eric rotated through the various kitchens picking up new skills at each stop.
At Vivace, the Italian fine dining, the chef de cuisine was a former sous chef for Mario Batali in New York. This is where Chef Eric learned of an opportunity to help with Batali and Joe Bastianich's brand expansion to Las Vegas. "On my day off, I got a call when I was at a movie — it was a New York number," Chef Eric recalls. "It was Mario Batali who asked me, 'When are you moving to Las Vegas?'" Chef Eric traded San Diego for the Sunset Strip to be the opening sous chef of all three of BB Hospitality proprieties: BB Ristorante, Enoteca San Marco and Carne e Vino inside the lavish Venetian Las Vegas hotel.
Chef Eric was very at ease in these kitchens. "The volume was not a problem for me and the menu was similar to a lot of the food [I had been doing] given my chef de cuisine was a former Babbo chef," Chef Eric says. The bonus of working in Las Vegas was he could explore the vast culinary scene. "San Diego [at the time] wasn't a culinary destination. In Vegas, you had Michael Mina, Tom Colicchio, Emeril Lagasse, Joel Robuchon — these chefs that were iconic. Being surrounded by that caliber of food and those restaurant projects had an incredible impact."
Though the casinos and hotels were massive, the restaurant community was not — it was concentrated. "The industry is already so incestuous, but take 100 restaurants and combine them in a two-block radius — everyone knows each other," he says. That Vegas chef network proved to be key to landing new opportunities.
Soon Chef Eric moved from the Batali group to play a role in the new Trump property with a plan to open a high-end, fine dining restaurant, DJT, to emulate that of the Jean-George's concepts inside the Trump International Hotel & Tower near New York's Central Park.
"Great chefs were involved and we were shooting for two Michelin stars, with that same duality of dining rooms out of one kitchen (like Jean-Georges and Nougatine)," Chef Eric says. "We had the best of the best, a few staff from Mario Batali, Guy Savoy, Bradley Ogden — a great pedigree of restaurants doing great food ... single-handedly my favorite kitchen to work in." There, he could source premium ingredients, even down to the chives. But the ambitious restaurant fell victim to the 2008 financial crisis.
Chef Eric landed on his feet with the Michael Mina group, which led to stints at properties in San Francisco's Nob Hill and Washington, D.C. He then joined Chef Gordon Ramsay's group as the executive chef of a high-volume burger eatery inside Caesar's Palace.
"We grossly underestimated the popularity of Gordon Ramsay," Chef Eric says. "People were waiting two to two-and-a-half hours just to have his burger!" It became a high-grossing restaurant with $20 million in revenue and 2,000 covers a day. "We made everything in-house — the buns were baked in our bakery, meat ground in-house, hand-cut French fries, 200 pounds of onion rings per day." After that experience, he warns, "don't ever make your own ketchup!"
Chef Eric's true passion for fine dining led him to a corporate position with the Ramsay group until the bi-continental commute didn't accommodate his lifestyle with his soon-to-be wife, and eventually, he settled back down in Southern California as a corporate chef for Specialty Restaurants. With 10 restaurants in the portfolio, the position included overseeing remodeling and running day-to-day operations, among other duties. When the pandemic hit, he wound up seeking work elsewhere. "For me, part of my happiest moments at Specialty were working with the teams and showing cooks new technology and ways to do things better and easier," he says. "The thought of doing that everyday with students was so rewarding." He began instructing Culinary Arts at ICE's Los Angeles campus in September 2020.
Chef Eric is very familiar with what it is like to be in the kitchen classroom having attended Art Institute of California. "I started culinary school, though I already knew what was going on in a kitchen," he says, remembering the time when asked to make Caesar dressing and producing a hefty 5-gallon batch. With restaurant experience under his belt, he saw the value a formal education would bring him. "I knew at some point I'm not going to be able to work the line, I needed that education," he says. "Culinary school made me learn how to think critically." It also taught him how to work with a team of people with different skill sets and different levels of knowledge. "I had to organize the team, which gave me a broader sense of management."
Now, he shares his real-world experience, from resorts to fine dining to a celebrity chef burger concept, with students at ICE's Los Angeles campus — in the classroom and beyond with his new role as associate dean of students. "I can bring my background as a corporate chef in dealing with people and problems to the student body," he explains. At the same time, he hopes to assist Dean of Students Herve Guillard in this new capacity by bringing his fine-dining perspective to the curriculum. "Currently, we're revamping Course 8 to reflect changes in the food scene in LA."
In the classroom, he helps his students learn to problem-solve while acting as a sounding board. "Someone who wants to just learn recipes can go buy a cookbook or go online, but enrolling in culinary school is thinking the recipe through: How do I get this end result? And to receive feedback," he says. "That is what students are paying us for and I'm here to help them succeed."
Meet Chef Eric on a tour of ICE's Los Angeles campus.