Chef Kwame Onwuachi on Setbacks, Success and Storytelling
The "Top Chef" alum reflected on his restaurant experience with ICE students.
Chef Kwame Onwuachi rose to stardom on "Top Chef" in 2015 and recently announced he'll return to the show as a judge. After working in D.C. restaurants and releasing a memoir, he spoke to Institute of Culinary Education students via Zoom for a virtual event this month.
Kwame Onwuachi had an entrepreneurial spirit from a young age. As a late teen, he was already running his own catering company in New York City. A failed event led him to pursue training at the Culinary Institute of America. "I needed to find out the 'why' behind what I was doing," he said to ICE students during a recent virtual event. "That's why you're in school today."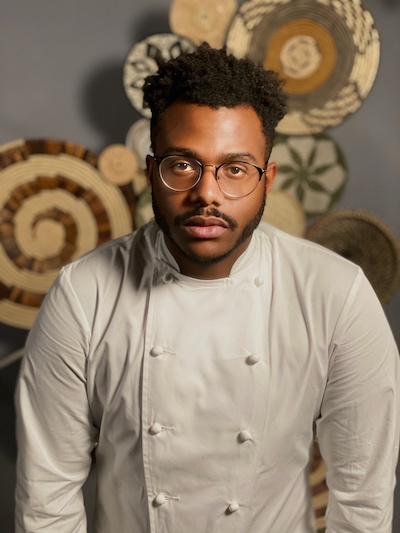 Chef Kwame threw himself into every aspect of his educational experience, which even included entering a hot dog eating contest. The James Beard Foundation's 2019 Rising Star Chef of the Year winner went on to work in the kitchens at preeminent restaurants Eleven Madison Park and Per Se. He opened (and quickly closed) his first D.C. restaurant, Shaw Bijou, and eventually went on to cook from his heart and heritage at Kith & Kin. Since leaving Kith & Kin, he published a memoir, "Notes from a Young Black Chef," that soon will become a major motion picture.
Chef Kwame joined ICE for a live stream about his experiences — and setbacks — in the industry on the heels of Food & Wine's announcement that the chef has joined the magazine as a contributing executive producer. Chef Kwame will host the multi-day, inaugural event, Family Reunion, featuring BIPOC contributions to the food industry. Here are highlights from the celebrated chef's career advice in his own words.
On failed restaurants:
Failure happens to anyone who tries. If you think about it in that aspect, you're not going to hit every single time. (Michael Jordan didn't hit all the shots he threw in the air, but he kept shooting.) When you have determination, you're an unstoppable force. You can't listen to those people who are influencing you in a negative way.
After some time I got myself together and I saw passion, ambition, determination, creativity, but then I had the key ingredient: the removal of the fear of failure. I had failed miserably and very publicly. It's not about how many times you fall, but how many times you get back up. You only need to be right one time for people to believe you, to see your vision. It's part of the process of being great — falling down.
On finding success in culinary school:
First and foremost you have to educate yourself as much as possible. Going to culinary school is the same thing as working in a kitchen, you have to do the work outside of class the same as you have to do inside the class. That's the only way you're going to become better.
You have to think, are you maximizing the opportunities you have here? For me, I didn't go to culinary school to learn how to cook. I went to culinary school to learn the why behind it – the history, gastronomy, food costs, product knowledge. I wanted to learn in a more holistic manner, and then I looked up all the top chefs in the country. They went to ICE, FCI, CIA ... I am potentially one of the next people in the brochure, so why don't I do everything they did and more? 
Everything that the school has to offer you should be taking advantage of because you all are going to school with the future of the food world.
On externships:
At the end of the day, your work ethic is the most important thing. I went to Per Se, I had never even worked in a three-Michelin star before and I was able to hang with the best of them. It was my work ethic — writing down my timeline when I was outside of the kitchen, cutting my labels on the train so I had a little bit more time to do something else. It's really breaking it down to a sport and seeing what areas you are weak in and how you can be better. It doesn't matter if you go to Disney World or Eleven Madison Park, you're going to come out better because every single day you are trying to be a better chef than you were the day before. That's what you should be working on. You are your own competitor.
On first jobs:
You have to have a goal in mind when you walk into these places. That's a business mindset — to have an exit plan. You can't walk into any business strategy without thinking about how this could end, and once you realize that, you realize what you need to gain in that lifespan. For me [at Eleven Madison Park] I learned so much knowledge, so much technique, cleanliness, attention to detail — I learned to trust myself, trust my gut, trust my intuition.
On what influences his cuisine:
My heritage is 90% of the influence of my cooking. There's so much to dig through, there are so many places to go, there's so much to learn — it's an infinite well. The rest is people — meeting people, talking to people. When I say people, I mean traveling! Going to see how people live and how they eat and it starts with the person.
On his management style:
You can't talk to one person like you talk to another person. You have to pick up on people's nuances; what makes people happy, what makes them sad. You're more than just a chef, you're a therapist — you really are! If a staff member is late, ask them why. Maybe they have two kids and they have to drop one off at school on the other side of town. Getting to know people and talking to them is the best thing you can do.
On advice for young culinarians:
My story is no more important than yours. We all have a story and it needs to be told. It can be told through literature, in the spoken word on a stage or through your food. Whatever you're going to do next, just tell your story and be confident. No one is you-er than you. Your story is unique. So, whatever you're going to do, push forward and lead with your heart, your mind, body and soul, and lead with your story.
Start your career story with training at ICE Los Angeles.
Submitted by Lorna on March 20, 2021 4:34pm
Very interesting profile.  It would have been awesome to see a picture of one of your award-winning dishes. 
Add new comment