Meet Chef Damon Henderson
The Culinary Arts chef-instructor shares his path from career change to hotel chef, catering and education.
A personal life change was the catalyst for Chef Damon Henderson to follow his heart and study the culinary arts. Nearly two decades later, he is a chef-instructor where he first fell in love with learning the craft.
Before Damon Henderson was wearing a chef's uniform, he wore a correctional officer uniform at the Los Angeles County jail. Chef Damon followed his father, an LA County sheriff, into law enforcement. At home, however, he followed his dad into the kitchen where he observed him create memorable dishes.
"There were three people, two of my aunts and my father, and if any one of those individuals were cooking, I was sure to be around," Chef Damon recalls. In the Henderson household, food was always at the center of family get-togethers. "Whenever my cousins, aunts and uncles came over, food was always the focal point."
Looking back, Chef Damon remembers watching his relatives cook, but it wasn't until his parents' divorce that he understood how much he had absorbed from those interactions. "I didn't realize it at the time because my sole reason for wanting to hang around the cooking was so I could know immediately when the food was done." When he was living with his mother, however, she didn't cook. "I would walk down to the kitchen and 10 minutes later, my mother would smell the aromas and see that I could make the stuff my father would."
That act of cooking for his family stoked Chef Damon's desire to further his culinary knowledge. "From there, I thought, how do I know what to do? When do I fry or bake or grill? It was all based on experience but not on innate knowledge," he says. While his curiosity about culinary school grew, he worked in law enforcement from the age of 18 to 32.
But when he and his own wife separated, and she returned to the east coast, he reexamined his career path. "When you go through a life change like that, it's a major upheaval," he says, revealing that he asked himself, 'If money was no object, what would you do? What do you love to do?'
"At that moment, I was in the kitchen and cooking. I thought this brings me joy and relaxation. I want to be a chef."
After that revelation, it was full speed ahead. He researched culinary schools and began his studies at what was then the California School of Culinary Arts, on the very same block where he currently teaches at the Institute of Culinary Education in Pasadena. After completing his first course, he moved with his three young children to Las Vegas and enrolled at Le Cordon Bleu to complete his culinary arts diploma.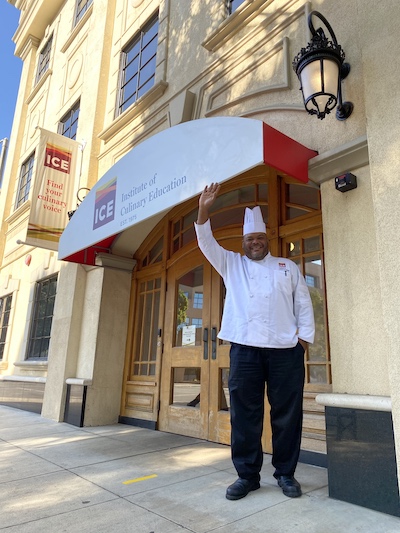 Early on in culinary school, Chef Damon knew he had made the right career move. "I was blown away that I was doing something for the first time in my life that I truly loved," he remembers. When his chef-instructor, Michael Shane, asked the class if anyone had anything to share with the group, Chef Damon mustered up the confidence to share with his new classmates how they motivated him, which encouraged him to do better. "The class erupted as we were all thinking the same thing, as one unit," he recalls.
Chef Damon's decades-long culinary career has since taken him to many areas of the industry, from hotels in prestigious kitchens like Michel Richard's Central at Caesar's Palace and the Venetian Las Vegas to venues like House of Music Entertainment in Beverly Hills and Cleo L.A. Live where he served as executive sous chef. He transitioned to education as the culinary director of Jewish Education Trade School (JETS) where he standardized recipes for the curriculum while adhering to kosher standards.
To understand his students better, Chef Damon imagines himself as a young cook. "I was always afraid of making a mistake in the restaurant," he says. "That kind of pressure and anxiety doesn't help, it can hinder you." While working in catering, he learned from another chef how to approach the stress that comes with the job: to push through adversity, see the bigger picture and not blow up, like others had previously when things went wrong. "I want them to be able to act on their own without fear or reprisal," he says. "If you learn to have the confidence to act on what you know, it will make you a better culinarian."
Chef Damon teaches students to work in unison and to temper their excitement. "Stay focused and pay attention, words can't supplant the kitchen speaking to you," he tells them. "When they talk too loud, you can't hear the kitchen when it speaks to you. The kitchen is always going to keep us on track. When that pan is hissing or you smell of bacon, you might say to turn that fire down."
When Chef Damon is not in the classroom, you can find him aboard the El Dorado fishing off Long Beach. In the near future, he is hoping to put his lobster-fishing license to use and head out on his kayak with traps. Though lobster fishing is a solo venture, in the kitchen he always encourages teamwork.
"What I hope students learn is that they are never alone," he says. "When mistakes happen don't isolate yourself, don't try to hide, get together and get it done. When you come together, nothing can happen that you can't correct."
Chef Damon wishes his students the same discovery he had. "I hope they land in a career that they truly love," he says. "I hope by staying true to it they can take that and take care of themselves and their families. That's my ultimate goal, to keep doing what I love for the rest of my life — it's not just a job, it's my life and what I love to do."
Study Culinary Arts with Chef Damon at the Institute of Culinary Education.